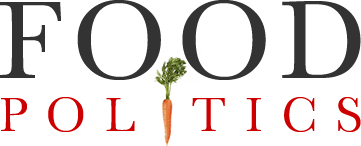 by Marion Nestle
Weekend reading: Andy Smith's latest encyclopedia, "Food in America"
Smith, Andrew F. Food in America: The Past, Present and Future of Food, Farming and the Family Meal. 3 vols. [Volume 1: Food and the Environment; Volume 2: Food and Health and Nutrition; Volume 3: Food and the Economy]. Santa Barbara: ABC-CLIO, 2017.
The prolific and ever astonishing Andy Smith has done something breathtaking: produced a three-volume encyclopedia on the environmental, health, and economic implications of food–which he wrote in its entirety.
This is classic Andy Smith: well written, well referenced, highly accurate, and covering an enormous territory.  He introduces each volume with an historical chapter and ends them with invaluable appendices giving chronological timelines and providing landmark documents.  These last are wonderful to have in one place, although finding them is a challenge (there is no list at the front).
The work that must have gone into this is beyond comprehension.  I've done timelines myself and have some idea of the amount of research needed to produce one.  But he's got three covering at least 200 years and in one case starting with the Ice Age.
If you collect food encyclopedias, as I do, you will want this one.
Here's what's in it:
VOLUME 1: FOOD AND THE ENVIRONMENT
Introduction 1
History 5
Controversies: Going Forward 81
Climate Change 83
Concentrated Animal Feeding Operations (CAFOs) 100
Fertilizer 114
Fish and Shellfish 126
Food Waste 143
Locavores 157
Organic 168
Pesticides 178
Sustainable Food 193
Water 205
Landmark Documents 219
Chronology of Landmark Events 345
Sources of Further Information 351
Index 361
VOLUME 2: FOOD AND HEALTH AND NUTRITION
Introduction 1
History 5
Controversies: Going Forward 77
Antibiotics 79
Diet 94
Food Additives 107
Food Insecurity 118
Food Labeling 129
Foodborne Illness 145
Obesity 159
Salt 173
Soda 184
Sugar 199
Landmark Documents 213
Chronology of Landmark Events 339
Sources of Further Information 347
Index 355
VOLUME 3: FOOD AND THE ECONOMY
Introduction 1
History 5
Controversies: Going Forward 83
Advertising and Marketing 85
Aquaculture 100
Fast Food 112
Food Corporations 126
Genetically Modified Food 141
Globalization 159
Industrial Farming 171
Labor 181
Meat 195
Megagrocery Chains 207
Landmark Documents 217
Chronology of Landmark Events 331
Sources of Further Information 339
Index 347