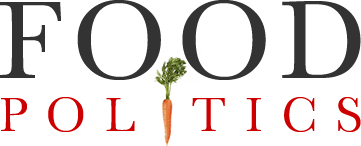 by Marion Nestle
Trump budget double-speak: USDA/ERS budget cuts
The Trump administration released more details on its proposed budget, in language straight out of George Orwell's 1984.
Framed as "savings and reform," the proposal is to move the USDA's Economic Research Service out of Washington DC.   Although this proposal says the purpose is to bring the ERS closer to rural America, its real purpose is to put the ERS out of business.
Why do I say this?  Because this proposal comes with a $26 million budget cut.   I also hear rumors that ERS research staff are being offered retirement options.
ERS is the jewel in USDA's crown, nothing less than a national treasure, not only worth preserving but worth extolling for its truly important contributions to society.
I've long said that ERS was the best kept secret in government.  Its researchers worked tirelessly to provide real data on America's food production and what it means for health.
Here, for example, is its latest report on how the U.S. food dollar is spent.
The best thing I can say about this budget is that it is unlikely to pass.  Members of Congress have been trying to put a stop to this move.  Let's hope they succeed.
This may be a small piece of what's happening, but in my field it is essential.
Please tell your congressional representatives to restore ERS's budget and keep it in Washington, DC.
How?
Addition