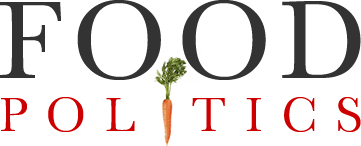 by Marion Nestle
GAO says moving USDA's ERS to Kansas was not such a great idea
The Government Accountability Office has just issued this report:  Evidence-Based Policy Making: USDA's Decision to Relocate Research Agencies to Kansas City Was Not Fully Consistent with an Evidence-Based Approach
You may recall that in October 2019, USDA relocated most Economic Research Service staff positions from Washington DC to Kansas City, MO.  At the time, USDA Secretary Sonny Perdue said the move would save taxpayers more than $300 million over ten years.
This defied credulity.  The real reason had to be that politically appointed USDA officials wanted to destroy the ERS.  Its economists produce reports that tell truths inconvenient for political expediency.
An easy way to destroy an agency is to move it half way across the country.  That way three-quarters of the professional staff would quit or retire.
I considered this move a national tragedy, and said so repeatedly.
The GAO is more polite than I am.  Here is a summary excerpt from the report's Highlights.
USDA's stated objectives for relocation were to improve its ability to attract and retain highly-qualified staff; place its resources closer to stakeholders and consumers; and reduce costs to taxpayers.

However, GAO found that the economic analysis did not fully align with those objectives. ..USDA omitted critical costs and economic effects from its analysis of taxpayer savings, such as costs related to potential attrition or disruption of activities for a period of time, which may have contributed to an unreliable estimate of savings from relocation.

Overall, GAO found that USDA's development and usage of evidence had significant limitations… As a result of the weaknesses GAO found, USDA leadership may have made a relocation decision that was not the best choice to accomplish its stated objectives.
But it did achieve its unstated objective: to weaken, if not destroy, ERS.   This agency is still publishing reports, but most of them are uncontroversial estimates of food production and use.  Occasionally I see glimmers of the kinds of reports the agency used to produce.  Let's hope more of them are on their way.