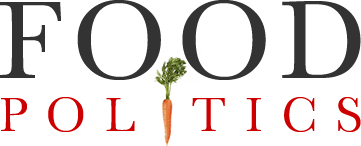 by Marion Nestle
The tragic destruction of the Economic Research Service, continued
I care about what's happening to the ERS because I depend on the research it produces and have relied on its authoritative studies for decades.  I trust ERS researchers to be honest, independent, and wonderfully available to provide expert interpretation of USDA data.  It breaks my heart to see the destruction of an agency I considered to be a national treasure.  I thought it would be protected by being under the radar.  Apparently not.
Staff losses and politicization means that the ERS is highly unlikely to continue doing that same kind of independent, critical research.  This is an enormous loss.
The USDA sent out a press release announcing that the ERS offices would be moved to Kansas City.
USDA says it is doing this for these reasons:
The considerable taxpayer savings will allow us to be more efficient and improve our ability to retain more employees in the long run. We will be placing important USDA resources closer to many stakeholders, most of whom live and work far from Washington, D.C. In addition, we are increasing the probability of attracting highly-qualified staff with training and interests in agriculture, many of whom come from land-grant universities.
Do we believe this?  No, we do not.
The proposal has already sparked a brain-drain of veteran economists from ERS, and some lawmakers and ERS staff allege relocation is a back-door attempt to shrink the agency and clamp down on research that doesn't align with the Trump administration's priorities.
Politico notes that "USDA paid the consulting firm Ernst & Young $340,000 to run the site selection process."
In the meantime, ERS employees voted to unionize.  OK, better late than never.
Jerry Hagstrom of The Hagstrom Report  attended USDA Secretary Sonny Purdue's announcement of the location of the move to ERS employees.  Union members expressed their displeasure openly (they have nothing to lose at this point).
This was a small agency doing quality work.  Its destruction is an American tragedy.
Thanks to the Hagstrom report for providing links to relevant documents:
USDA Research, Education, and Economics — ERS Directed Reassignment Letter (sample)
— Notice of Voluntary Separation Incentive Payment Authority
— Offer of Directed Reassignment: Acceptance/Declination Form
— Application for Voluntary Separation Incentive Program Buyout
— Frequently Asked Questions: Voluntary Separation Incentive Payments (VSIP)
— Sample Buyout Computation Worksheets
— Tax Questions on Buyouts (VSIP)
KC Area Development Council — USDA + KC: Relocation
— KC Now (video)
The ERS union's letter to USDA for help with the move