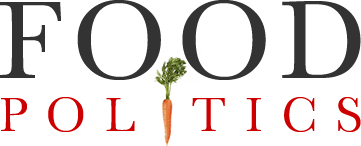 by Marion Nestle
Former President Trump feared death by tomatoes: testimony
My son-in-law, Michael Suenkel, sent me a link to this video clip from Rachel Maddow, with a note:
This is from  Rachel Maddow last night.  Trump on fruits and vegetables.  Either hilarious, terrifying, or deeply embarrassing depending on whether you're a half full or half empty person, I suppose.  Start at 4:35.
I went right to 4:35.
And then I saw Emily Heil's account of this incident in the Washington Post: Trump's killer tomatoes and the history of food as protest projectile.  She summarizes the former President's testimony:
Trump, we learned on Wednesday, actually feared for his life at the other end of a major food group, or at least claimed to…Death by fruit? "I think that they have to be aggressive in stopping that from happening," Trump said, in a deposition whose transcript was reported this week, about the approach his security detail took in 2015 to threats that protesters at a 2015 campaign rally might launch a vegetal attack. "Because if that happens, you can be killed if that happens. … To stop somebody from throwing pineapples, tomatoes, bananas, stuff like that, yeah, it's dangerous stuff."
Heil, clearly a serious scholar, goes deeper.  Not only are tomatoes thrown at politicians, but also other foods: eggs, pies, milkshakes, spaghetti.
Pies?  I was there!  I was in the audience at the National Nutrition Summit in Washington, DC, when a protester threw a pie at USDA Secretary Dan Glickman.  You can see this for yourself in this short clip introduced by Jon Stewart.  Here's a screenshot.
Glickman ducked and avoided the worst of it.  He discussed the incident in a 2021 Tweet.
Scholars: I see a doctoral dissertation in food projectiles.  Get to work!