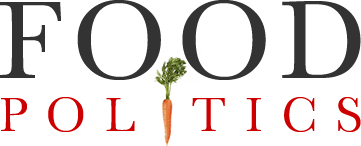 by Marion Nestle
USDA's destruction of the Economic Research Service: A National Tragedy
The reasons behind the Trump Administration's efforts to relocate the USDA's Economic Research Service out of the Washington DC area are becoming increasingly transparent: the administration views the conclusions of ERS research on SNAP and other key issues as incompatible with its agenda.
I wrote about the real reasons behind the proposed transfer in a post on September 21 last year: 
Former [ERS] officials were unanimous in arguing that the proposal to relocate the agency outside of Washington DC and reorganize it into the USDA Secretary's office was "ill-conceived," made no sense, was done without appropriate consultation, was potentially illegal, would politicize the agency, and would damage, if not destroy, an agency that is the jewel of USDA. The USDA says the reasons for doing this are easier recruitment, cheaper rent, closer alignment with the Secretary's policy initiatives, and getting the agency closer to stakeholders.  None of these bears up under even the most casual scrutiny. So what is this really about? I'm guess that this is about getting political control over—silencing—an agency that conducts independent, unbiased, nonpartisan research that risks leading to inconvenient truths.
Now, ERS employees are coming forward to state publicly that they view the transfer "as a crackdown on research that's unflattering to White House policy priorities."
According to Politico, ERS personnel have done an analysis of which researchers are being told to stay in Washington, DC, and which ones are being told to move.  The ones being transferred out
are largely specialists in issues like climate change, food stamps and trade policy, where economic assessments often clash with White House policies.  The list, shared exclusively with POLITICO, shows a clear emphasis was placed on keeping employees in Washington whose work covers less controversial issues like crop planting over those whose research focused on areas sensitive to the administration….USDA released a written statement from Perdue arguing the relocation is not connected to the work being carried out by ERS economists. The secretary has long said the move will save taxpayer money and bring the agencies closer to major farming regions.
Some members of the House of Representatives are trying to block the relocation but even if they can, it will be too late.  By the time any legislation gets passed, the move will already have been accomplished and key ERS researchers long gone.
Eight Democratic senators led by Sen. Chris Van Hollen (D-Md.) co-sponsored a measure that would prevent ERS and NIFA from being moved.  Van Hollen is also trying another route: Politico reports that he has  put a hold on the nomination of Scott Hutchins to be USDA's chief scientist…"to indicate the seriousness of Van Hollen's concerns about the proposed relocation."
In the meantime, everyone is waiting to see where USDA intends to move the ERS.  The options are Kansas City, the Research Triangle in North Carolina and multiple spots in Indiana.
Whatever happens, the damage has been done.  Many ERS researchers have retired or resigned.
This agency produced authoritative analyses of food and nutrition issues that I relied on for much of my work.  This is an incalculable loss. and nothing less than a national tragedy.