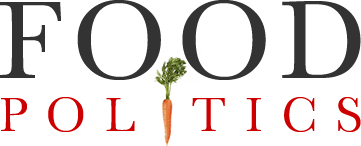 by Marion Nestle
Trade mitigation payments are no substitute for effective agricultural policy
One of the daily newsletters I subscribe to is Chuck Abbott's Ag Insider, sponsored by the Food and Environment Reporting Network (FERN), which covers and analyzes agricultural policies otherwise unknown or incomprehensible to readers like me.  You can subscribe to it here.
The particular article that caught my eye is about how Trump's program of compensating farmers for the losses caused by his trade war with China has gotten the government much deeper into supporting Big Ag than some congressional representatives think is appropriate.
The USDA has stated that it will spend $15 to $20 billion on trade mitigation payments this year.  This will pay $2 a bushel for soybeans, 63 cents a bushel for wheat, and 4 cents a bushel for corn.
If you were a farmer, which would you plant?
The promised new payments will
double the $8.5 billion that has been paid so far on 2018 production of almonds, cotton, corn, dairy, pork, soybeans, sorghum, sweet cherries, and wheat. And the $15-$20 billion would be on top of $11.5 billion previously forecast for federal payments this year. Last year, direct farm payments totaled $13.8 billion, largest in 12 years, because of trade mitigation aid.
This is big money, at taxpayers' expense.
Abbott's point is that the "Freedom to farm" act of 1996 encouraged farmers to make planting decisions based on market prices rather than expectation of subsidies, and to reserve part of their land for conservation purposes.  Farmers were able to sell their crops for market prices rather than have the government buy them.
Farmers should continue to make their planting and production decisions with the current market signals in mind, rather than some expectation of what a farming support program might or might not look like, based on inaccurate media stories.
And guess what: The National Corn Growers Association wants higher payments.
In other articles in this series, Abbott reports that "more than a third of net farm income for Kansas farmers comes from Trump tariff payments, but that won't make up for lost export sales."