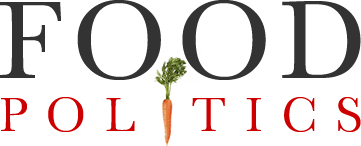 by Marion Nestle
The Counter investigates: the Economic Research Service's shameful downfall
I was pleased to see Jessica Fu's article in The Counter: One year after a mass employee exodus, USDA's research arm remains half-staffed. New work has ground to a near halt.
Long-time readers of foodpolitics.com will be familiar with  my distress at the USDA's moving the Economic Research Service out of Washington DC to Kansas City, in a clear effort to destroy an agency that sometimes produced inconvenient research.
Fu supplies the data.
She also did some investigating.
"Everybody that was doing [work] on seeds, chemicals, and precision agriculture left—so all that work is wiped out completely," MacDonald said. "We had a significant amount of work on the health and environmental impacts of industrialized livestock production. That was wiped out."

Reports on tariffs, farm workers, honey bees, herbicide resistance, and antibiotic use in animal production are all among the work forfeited or delayed in the transition, according to an internal memo shared among staffers and reviewed by The Counter.
Her article points out that "some staffers believe" the ERS was targeted "because its findings frequently conflicted with political stances on food stamps, trade, and the environment."  The USDA, of course, denies this, but the available evidence strongly supports this hypothesis.
I thought the ERS was the best kept secret in Washington—non-partisan researchers who reported on food system facts.  It got noticed.
An American tragedy indeed.