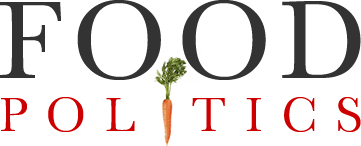 by Marion Nestle
The food industry vs. menu labeling: the saga continues
Remember menu labeling?  The idea started in New York City in 2008.  Here is one of my early posts on it.  My point in mentioning this: if you care about such things, menu labeling is useful, fun, and effective if you pay attention to it.
Despite a lot of research suggesting otherwise, menu labeling must work.  How else to explain industry's ferocious and unrelenting opposition to it?
The latest is a lawsuit filed by the Food Marketing Institute and the National Association of Convenience Stores against New York City, which announced that it plans to enforce the regulations it has had in effect for nine years—even though the FDA has delayed national implementation once again until 2018.
To get some idea of what fast-food places are upset about, it helps to check in with the American Pizza Community, the friendly-sounding, but actually highly aggressive trade association for fast-food pizza places.
Here, for example, is its congratulatory statement to the FDA for delaying compliance with the law for another year:
The American Pizza Community welcomes the important step by the Food and Drug Administration toward applying common sense to federal menu labeling regulations…The previous approach threatened to impose excessive burdens on thousands of small businesses without achieving meaningful improvements in educating consumers. The American Pizza Community commends the Administration's decision to extend the compliance date to May 7, 2018 and its request to collect comments for reducing the regulatory burden and increasing flexibility in implementation methods.  We support menu labeling and look forward to working with policy makers to implement a permanent solution that provides consumers with information and enables small business owners to comply with flexibility while continuing to thrive and create jobs.
By "support," the pizza folks mean the "Common Sense Nutrition Disclosure Act of 2017."
Instead of requiring calories to be posted next to the menu item, this bill would allow nutrition information to be available "solely by a remote-access menu (e.g., an Internet menu) for food establishments where the majority of orders are placed by customers who are off-premises."
Also, "an establishment's nutrient content disclosures may vary from actual nutrient content if the disclosures comply with current standards for reasonable basis.
The pizza industry has the Wall Street Journal on its side.
The Food and Drug Administration can't possibly fulfill all of the responsibilities it claims to have, and here's one way the Trump Administration can set better priorities: Direct the agency to end its effort to inform Americans that pizza contains calories.
I guess the hope is that if they delay long enough, menu labeling will quietly disappear.
CSPI, however, has other ideas.  It filed a lawsuit to force the FDA to implement the regulations.
This lawsuit asserts that the delay of the menu labeling requirement—published without prior notice or an opportunity for comment, one day before the menu labeling rule was supposed to take effect—is illegal and must be vacated.  Since the regulated industry was ready to comply before the delay, it can promptly comply with the menu labeling rule once reinstated and, thus, begin to provide this important health information to the public without delay, according to the complaint.
Recall that menu labeling was authorized by Congress as part of the Affordable Care Act in 2010.  No wonder CSPI wants the rules implemented right away.
The ACA is still with us—so far.