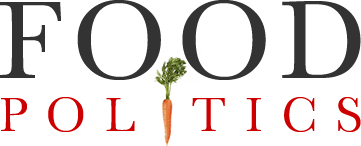 by Marion Nestle
Farm Bill #1: Earl Blumenauer's bill
It's Thanksgiving week and I can't think of a better time to talk about the farm bill.
My starting place for thinking about this topic is a short article I wrote for Politico about the previous bill: The farm bill drove me insane.
Now, House member Earl Blumenauer (Dem-Oregon) has come up with an alternative: the Food and Farm Act.  Here's how he explains it to Civil Eats.
n a video, he calls for reform and for fixing the existing farm bill.
He explains the philosophy behind his proposals in Growing Opportunities: Reforming the Farm Bill for Every American
Not only is the Farm Bill costly and expensive, its resources are misdirected. The legislation gives too much
to the wrong people to grow the wrong food in the wrong places. This misallocation is tragic because of the
power and reach of the U.S. Department of Agriculture (USDA) programs authorized by this legislation
every five years. The USDA is the only agency in the federal government that can build a community from
the ground up, and tackle issues like housing and infrastructure as well as all aspects of America's farms and
ranches.
To make this even easier, his campaign put together a small handbook in cartoon format: The Fight for Food: Why You Deserve a Better Farm Bill.  This is a terrific beginner's guide, the best way I've ever seen to get started.
The main difficulty with the farm bill for everyone other than a lobbyist is that the issues get wonky right away.  Even the handout on  the highlights of Blumenauer's bill has lots of wonky details and requires close attention.
I particularly like what he proposes as Title IX: Regional Food Systems (my translations):
Identifies the benefits
Expands federal investment
Increases funding for specialty crops (USDA-speak for fruits and vegetables)
Invests in local and regional systems infrastructure
Funds local and regional meat processing
Increases transparency of USDA's grant process
Protects small farmers from retaliation
Idealistic?  Yes!
Possible?  Maybe, if we can ever get the political will.
Here's something positive to support.  Get to work!