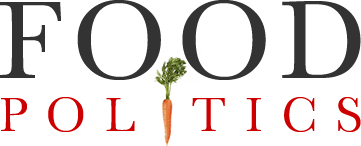 by Marion Nestle
Keeping tabs on the food industry: Access to Nutrition Index
Access to Nutrition has just published its 2018 global report.  Its Global Index:
Measures companies' contributions to good nutrition against international norms and standards and includes a separate ranking of the world´s leading manufacturers of breast-milk substitutes (BMS).
The report summarizes its findings:
The 2018 Index shows the world's biggest F&B companies have stepped up their efforts to encourage better diets, mostly through new and updated nutrition strategies and policies, improved commitments on affordability and accessibility, better performance on nutrition labeling and health and nutrition claims, and more disclosure of information across categories. Nevertheless, ATNF has serious concerns about the healthiness of the world's largest global F&B manufacturers' product portfolios.
Access to Nutrition ranks the European companies, Nestlé, Unilever, and Danone, highest on its lists.
Its "serious concerns"?
Poorly defined reformulation targets
Unclear approaches to making healthy products for affordable and accessibe
Continued irresponsible marketing to children
Inadequate employee education programs
Inadequate support to breastfeeding mothers
Inadequate labeling
Inadequate support for public health measures
On this last one:
Indeed.