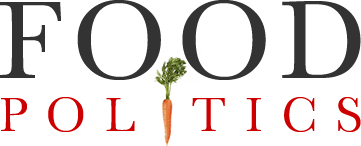 by Marion Nestle
Question for the day: Is Tofu processed?
With all of the talk these days about avoiding ultraprocessed foods, questions come up about what that means.  After I posted about the added colors involved in processing plant-based meats, I received a tweeted question:
This got me thinking about tofu. Is it highly processed? Love your thoughts on it!
Like everything else about nutrition, the answer depends—in this case about what you consider processing.  All foods are processed to some extent, if you count washing and cutting.
Ultraprocessing, however, refers to foods that look nothing like what they started out as, and are loaded with added sugars, salt, and artificial colors and flavors.
Commercial tofu is minimally processed; it is just soybeans and a coagulating agent.  Here is one recipe, for example:
Soak the soybeans: in water to soften them for 12 to 14 hours.
Process the beans to a slurry.
Boil the slurry to inactivate lectins and other undesirable soy compounds.
Extract the soy liquid ("milk") with a roller press to separate it from the soybean pulp.
Mix a coagulating agent—calcium sulfate, magnesium chloride, or nigari.—into the soy milk.
Press the liquid out of the curds.
The tofu you might make at home seems minimally processed, as it is made from just commercial soymilk and lemon juice.  Commercial soymilk, however, contains far more than just soybean liquid:
INGREDIENTS: Soymilk (Filtered Water, Soybeans), Cane Sugar, Contains 2% or less of: Vitamin and Mineral Blend (Tricalcium Phosphate, Calcium Carbonate, Vitamin A Palmitate, Vitamin D2, Riboflavin [B2], Vitamin B12), Sea Salt, Natural Flavor, Gellan Gum.
I consider good-quality commercial tofu to be minimally processed.  Commercial soymilk is another matter.  Sugar is its second ingredient.  Gellan Gum is its last ingredient.
I wasn't familiar with Gellan Gum, but I love the Wikipedia definition: "a water-soluble anionic polysaccharide produced by the bacterium Sphingomonas elodea (formerly Pseudomonas elodea)," that substitutes for agar and carrageenan.
A 1988 study of its effects on humans concluded that "the ingestion of gellan gum at a high level for 23 days caused no adverse dietary or physiological effects in any of the volunteers."  No surprise here: Financial support for the study came from Kelco, Inc., a company that supplies Gellan Gum.
If you want your tofu unsweetened and minimally processed, buy a freshly made commercial variety.