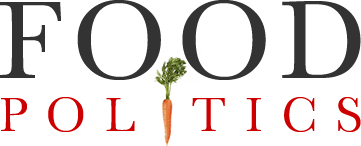 by Marion Nestle
Weekend reading: Amy Trubek's Making Modern Meals
Amy Trubek.  Making Modern Meals: How Americans Cook Today.  University of California Press, 2017.
Amy Trubek, an anthropologist (who also trained as a chef) at the University of Vermont, turns her attention to the meaning of cooking in our current era.  Cooking is, as she titles her chapters, at once a chore, occupation, art, craft, and means to achieve health.
She approached these topics as an anthropologist, using participant observations of bakeries and interviews with city and rural participants about their thoughts about cooks and cooking.  She uses this research as a window on contemporary life.
So, what of the dominant narrative that cooking is in decline because home cooks don't cook…Can we trust this assumption?  Not really….Perhaps the culprit is the organization and structure of modern life.  In multiple discourses (occurring in cookbooks, historical and contemporary media, interviews with cooks, etc.) there exists a pervasive sense of lack and loss as to what we can and should do in our domestic lives.  Almost seventy years ago, Avis DeVoto complained that she did not have time to cook…In this narrative, home cooking is much more episodic than in earlier times because it needs to be, given the expansion of daily demands, and skills and tasks related to meal preparation are given up so that cooking can be fit into modern life [pp. 106-107].