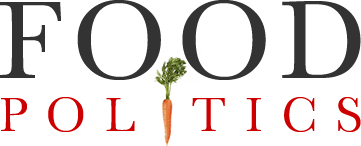 by Marion Nestle
Corporate profits v. public health: Campbell's as a case in point
Campbell's has just announced that it will divest its portfolio of healthier foods: Bolthouse Farms carrots, organics, salsa, hummus and dips, fresh soups.
Why? Activist shareholder pressure to make more money, faster.
These healthier-for-you products only generated $2.1 billion in sales last year, not nearly enough apparently.
While waiting for someone to buy them, or the entire company, the company's new CEO plans to concentrate on "operational discipline," which I assume is a euphemism for firing lots of people.
The CEO plans to focus on the money-making "core" products: Campbell Soups, Prego, V8, SpaghettiOs, Kettle Chips, Mlano, Goldfish and other such things.
As I keep saying, food corporations cannot be expected to be agents of public health as long as Wall Street investors call the shots.
Remember when Jeffrey Dunn's Bolthouse aimed to make carrots "cool?"  And kids would eat them if they were marketed like junk food?
I guess this strategy didn't work, alas.