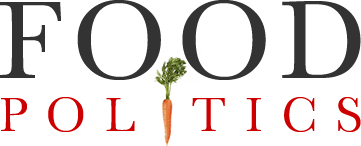 by Marion Nestle
Organic foods might reduce cancer risk, says new study
I never cease to be amazed by how angry some people get about organic foods.
They complain about its higher prices (organics cost more to produce).
They complain about its implicit—no, explicit—critique of conventional farming methods (organics use fewer toxic pesticides, are kinder to soil, and are more sustainable).
They complain that organics exclude GMOs (this is bad for the GMO business).
They complain about research showing the benefits of organics.
This last complaint brings me to the study on organic food and cancer just published in JAMA Internal Medicine. 
This is an observational study of nearly 70,000 people who were asked to report their level of consumption of organic foods and were then monitored for cancer for 7 years.
The results: those who reported consuming the highest levels of organic foods had the lowest risk of developing cancer during that period.
For non-Hodgkin lymphoma, the cancer most associated with exposure to herbicides and pesticides used in conventional agriculture and GMO production, the observed reduction in risk was a whopping 86%.
An accompanying editorial lists the limitations of the study; the dietary intake data were self-reported, the questionnaire wasn't validated, blood levels of pesticides and herbicides were not measured.
So yes, more research—perhaps much more research—is needed to confirm these observations before anything can be said about whether organics are really protective against cancer.
But in the meantime, there's no harm in eating organic foods and these foods have demonstrable environmental benefits.
Choosing them means voting for food production systems that are better for the environment—and might be better for health as well.
This makes organics a good bet and worth the premium price if you can afford it.
Here's what the New York Times says about this study.