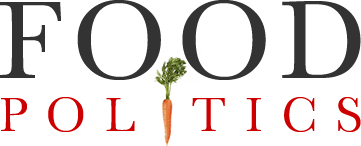 by Marion Nestle
Brave new food world: Will you eat these things?
I've started taking note of foods and ingredients still in the research phase or soon to come to a supermarket near lucky you.
Some recent examples:
Fat replacer made from wood cellulose.  This is designed to be used to make mayonnaise, sauces, dressings, and ice cream, among other foods.  Why?  This won't have much in the way of calories or saturated fatty acids.
Blue salad dressing made from Spirulina.  Why?  It's "Instagrammable."
Crickets for breakfast.  Investigators fed muffins made with dried cricket powder to 20 courageous volunteers.  Why?  "These data suggest that eating crickets may improve gut health and reduce systemic inflammation."  But note the disclaimer: "more research is needed to understand these effects and underlying mechanisms."
Salmon skin chips.  "The skins are washed and boiled before cooking which rmoves any 'overly fishy' taste, and are available in three flavours: lightly salted; salt & vinegar and lime and vinegar."
Insect-based protein supplements for athletes, vanilla flavored: Why?  "Opportunities in sports nutrition, and particularly in bulk powders, are greater than those in bars right now—especially given existing competition in the insect bar space."
Danish insect buffalo worm bar: Denmark-based Wholifoods has developed a buffalo worm energy bar rich in iron, zinc and magnesium to plug deficiencies and provide holistic sport nutrition stretching beyond protein which is 'very hyped', its co-founder says. Read more
Danish protein juice: crickets, coffee & mushrooms: Another month, another insect start-up? Maybe, but Danish firm Insekt KBH's apple, ginger and cricket juice is different: it's sustainable not only thanks to its ingredients but because it's produced in Copenhagen's self-sustaining urban food loop. Read more
Wilde Chicken Chips: Wilde Chicken Chips – thinly-sliced premium cuts of chicken tossed in tapioca flour, fried in coconut oil, and seasoned in various spices – reached nationwide availability at Whole Foods and Sprouts stores last month and will be debuting a new flavor early next year that founder Jason Wright believes will make chips a breakfast snack item. Read more
Walkers Chips flavored with brussels sprouts or Iceland chips flavored with pine needles:  "We know the sprout debate is one that divides the nation, so we wanted to offer product solutions for both sides of the debate, and ask people to decide whether they are a #SproutLover or #SproutHater," said Andrew Hawkswell, marketing manager of brand owner PepsiCo."
Yum.  Can't wait.