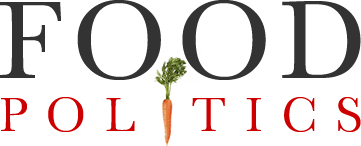 by Marion Nestle
Will better access to healthier foods reduce obesity?
A question from a reader:
Q.  I was wondering if you could comment on the recent article in the New York Times which questions the link between food deserts and obesity.
A.  Sure.  Happy to.  The article talks about two recent studies finding no relationship between the types of foods children eat, what they weight, and the kinds of foods available within a mile and a half of their homes.
These finding seem counter-intuitive in light of current efforts to improve access to healthier foods in low-income communities.
Obesity is more common among the poor than among those who are better off.   Poor people must be eating more calories than they expend in physical activity.
Eating more calories means eating more of foods high in calories, especially fast food, snacks, and sodas.  Kids who are heavier have been found to eat more of those foods than those who are not.
I can think of several reasons why this might be the case:
Access: healthier foods are less available
Cost: healthier foods cost more
Skills: healthier foods require preparation and cooking
Equipment: cooking healthier foods requires kitchen facilities, pots, and pans
Transportation: even if stores are available, they might be too far away to walk to
Quality: even if stores sell fruits and vegetables, they might not be fresh
Marketing: fast foods, snacks, and sodas are heavily marketed in low-income areas
Peer pressure: eating high-calorie foods is considered the norm
I can think of ways we might try to improve any of these factors, but I'm guessing that cost is the critical factor for people with limited means.  The Department of Commerce reports that the indexed price of fresh fruits and vegetables has increased by 40% since 1980, whereas the indexed price of sodas has declined by about 30%.
Fast food, snacks, and sodas are cheap.  Fruits and vegetables are not.
Without access to healthful foods, people cannot eat healthfully.  But access alone cannot reverse obesity.
The real issue is poverty.  Unless we do something to reduce income inequality, and to make healthier foods more affordable, fixing the access problem is unlikely to produce measurable results on its own.
Posted from the World Public Health Association annual meeting, World Nutrition 2012, in Rio.