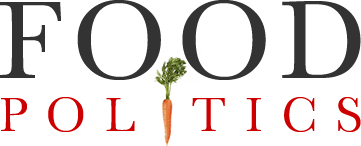 by Marion Nestle
Reuters: How the White House wobbled on childhood obesity
I am in Brazil at meetings of World Nutrition Rio 2012 but was deluged yesterday by links to a lengthy Reuters' Special Report: How Washington went soft on childhood obesity.
In an e-mail, Reuters explains that its report is about how food and beverage companies dominate policymaking in Washington, doubled lobbying expenditures during the past three years, and defeated government proposals aimed at changing the nation's diet.
The White House, despite First Lady Michelle Obama's child obesity campaign, kept silent as Congress killed a plan by four federal agencies to recommend reductions to sugar, salt and fat in food marketed to children.
Corporate lobbying last year led Congress to declare pizza a vegetable to protect it from a nutritional overhaul in the school lunch program.
The Center for Science in the Public Interest, widely regarded as the lead lobbying force for healthier food, spent about $70,000 lobbying– roughly what companies opposing stricter food guidelines spent every 13 hours.
The food and beverage industry has a near-perfect record in political battle even while health authorities link unhealthy food to the child obesity epidemic.
During the past two years, each of the 24 states and five cities that considered "soda taxes" has seen the efforts dropped or defeated.
Reuters Investigates also has a video about how the food industry fought back when the White House sought healthier school lunches and Congress directed federal agencies to set nutrition standards.
Readers of this blog may recall my post last December fretting about the White House pullback, and the vigorous denial the next day by White House senior food policy advisor Sam Kass.
I attributed White House caution to the upcoming election.  Reuters does too, apparently, and so does the New York Times. 
If the First Lady is to make real progress on Let's Move, she needs all the support she can get.  This might be a good time to send a note to the White House strongly encouraging more vigorous action on methods to address childhood obesity.