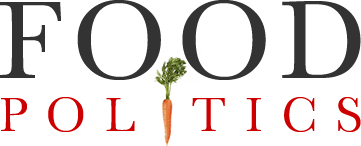 by Marion Nestle
Kids don't need kids' food
I did an interview for Childhood Obesity with Jamie Devereaux, its features editor.
Here are the first and last questions.  For the entire interview, click here:
The issue of access to healthy food is a major topic in the overall childhood obesity discussion in America. How important do you think it is to focus on solving the problems of food access as an objective in addressing childhood obesity?
I was impressed with Michelle Obama's choice of targets for reducing childhood obesity—improving access to food in inner cities and improving school food. Both are excellent targets and, in a rational world, should attract widespread bipartisan support. It's self-evident that it is more difficult to make healthier food choices  when no healthy food choices are available or when healthier foods are relatively expensive.
Some years ago I lived in a low-income Washington, D.C., neighborhood and was appalled at the poor quality of the supposedly fresh foods offered in the single grocery store within walking distance. I wouldn't buy it and wouldn't expect anyone else to want it either. Some studies report that inadequate access is a huge problem in inner cities and rural areas; others say the opposite. Without getting into arcane details about how the studies differ, the access problem just seems obvious and obviously needs to be fixed.
Finally, if you could shape the discussion of healthy food access for children in America—how would you frame it and what would you focus on?
Kids don't need kids' food. If adults are eating healthfully, kids should be eating the same foods that adults eat. Babies don't need commercial baby food. Older kids don't need kids' products. Families can all eat the same foods, and that should make life easier for all concerned. If you don't want your kids drinking sodas, don't bring them home from the supermarket. Teach kids to eat real foods early on, and they will be great eaters throughout life.