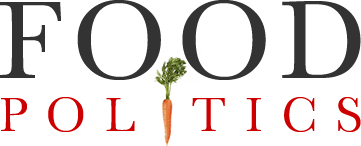 by Marion Nestle
Labeling GM foods: if the U.K. can do it, we can too!
You will recall that the FDA's 1994 stance on labeling of genetically modified (GM) foods was that labeling foods as GM or non-GM would be misleading  because the foods are no different.  Despite overwhelming evidence that the public wants to know whether foods are GM or not, GM foods do not have to be labeled.  Worse, those that are labeled non-GM have to include a disclaimer that this makes no difference (I explain how all this happened in Safe Food).
At present, there is no way to know whether GM foods that have been approved by FDA (such as potatoes, tomatoes, squash, papayas) are actually in the produce section of supermarkets.  When I was writing What to Eat, I paid to have some papayas tested.  Most were not GM.  But you have no way of knowing that.
The GM industry (translation: Monsanto) has opposed labeling from the very beginning, no doubt because of fears that people will reject GM foods.  The makers of processed foods object to labeling because practically everything they make contains GM ingredients: about 90% of the soybeans and 50% of the corn grown in America is GM.  Ingredients made from these foods – corn and soy oils, proteins, and sweeteners – are widely used in processed foods.
The Europeans are faced with the same problem but insist on labeling GM.  Guess what?  No problem.  Hershey's Reese's NutRageous candy bars in the U.K. disclose the GM ingredients in exactly the way our products disclose allergens: "Contains: Peanuts, Genetically Modified Sugar, Soya and Corn."
Here's the label (borrowed from Mike Grenville at flickr.com/photos):
Hershey is an American company.  If labeling in the U.K. is this simple, we ought to be able to do this here, no?  Here's a chance for the FDA to fix an old mistake and give consumers a real choice.