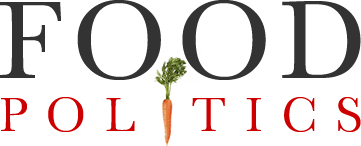 by Marion Nestle
Progress, of sorts, on the 2020 Dietary Guidelines
Remember the Dietary Guidelines?  Those pesky things that have to be revised every five years by order of Congress?
This time, the USDA is firmly in charge of the joint process with HHS.
It says the updating process is well underway.
The call has gone out for nominations of advisory committee members.  This is now closed and USDA expects to appoint the committee within the next few months.
And now it has put the official charter for the process out for comment.
It also has issued a Q and A.
And provides a schedule for public engagement.
A few aspects of this especially interest me:
Nothing has been said about a new food guide (MyPlate is left over from the 2010 guidelines).
USDA's close control.  It says this is mandated by Congress.
The level of scrutiny of the process will be exceptional, giving the fuss about the 2015 guidelines.
Expect the process to be highly politicized.
This committee will have its work cut out for it.  Much appreciation to the brave souls willing to take this on.
I can't wait to see who they are.
Stay tuned.