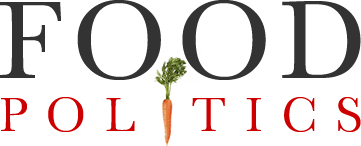 by Marion Nestle
Happy new year and food predictions for 2019!
It's prediction season and NBC MACH asked for mine in science and tech.  Here it is, along with those of 18 others (I'm in impressive company).
My crystal ball shows a fairy godmother waving her magic wand, giving us adequate levels of food assistance for the poor, delicious and healthy school food for kids, honest food labels that everyone can understand, food so safe that nobody has to worry about it, wages for farm and restaurant workers that they can actually live on, and farmers growing food for people (not so much for animals or cars) in ways that protect and replenish soil and water, reduce greenhouse gases and provide them a decent living. Hey — a girl can dream. And do we ever need dreams — visions for a healthier and more sustainable food system — if we are to continue to thrive as a nation. I cannot get my head around the idea that anyone would object to ensuring that all children get fed the best possible food in schools, that animals should be raised humanely or that crops should be grown sustainably with the least possible harm to the environment. Our food system should protect and promote public health as its first priority. We can hope that 2019 will bring us some steps in thatdirection, but here's my prediction: not this year. But let's hold onto those hopes for when times get better.
Outside also asked for predictions.  Here's what I said:
"Eat Less, Move More" Will Make a Comeback

I'm guessing that calories will be back as explanations for weight gain and dieting.  The arguments about "low-carb" versus "low-fat" go on and on and on, but get nowhere. Attempts to prove one or the other better for weight loss or maintenance remain unconvincing. Advice to eat less and move more still makes good sense. The trick is finding a way to do either—and preferably both—that is so easy to adhere to that it becomes second nature. Individuals have to figure that out on their own, and understanding calorie balance is not a bad way to begin.
If you like this sort of thing, here are some others:
Have a happy and delicious new year!