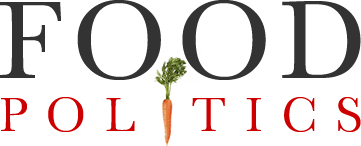 by Marion Nestle
What is the FDA saying about Cannabis products?
My main interest in Cannabis politics has to do with edibles.
I am not alone in this interest.  A recent posting from Pet Food Industry magazine came with this headline: 13 CBD pet product companies warned by FDA.
Pet foods, like human foods, are subject to FDA regulation.  The FDA has a page devoted to the topic: "What You Need to Know (And What We're Working to Find Out) About Products Containing Cannabis or Cannabis-derived Compounds, Including CBD."
This page points out, among other things, that:
It is currently illegal to market CBD by adding it to a food or labeling it as a dietary supplement.
The FDA has seen only limited data about CBD safety and these data point to real risks that need to be considered before taking CBD for any reason.
Some CBD products are being marketed with unproven medical claims and are of unknown quality.
CBD has the potential to harm you, and harm can happen even before you become aware of it.
The FDA makes it clear that the agency does not consider Cannabis to be Generally Recognized As Safe (GRAS) for human (or pet) consumption.
by statute, any substance intentionally added to food is a food additive, and therefore subject to premarket review and approval by FDA, unless the substance is generally recognized as safe (GRAS) by qualified experts under the conditions of its intended use, or the use of the substance is otherwise excepted from the definition of a food additive (sections 201(s) and 409 of the FD&C Act [21 U.S.C. §§ 321(s) and 348]). Aside from the three hemp seed ingredients mentioned in Question #12, no other cannabis or cannabis-derived ingredients have been the subject of a food additive petition, an evaluated GRAS notification, or have otherwise been approved for use in food by FDA.  Food companies that wish to use cannabis or cannabis-derived ingredients in their foods are subject to the relevant laws and regulations that govern all food products, including those that relate to the food additive and GRAS processes.
I've seen plenty of food products containing THC or CBD.  Their legal status is questionable, which is why this industry wants the FDA to make CBD legal.