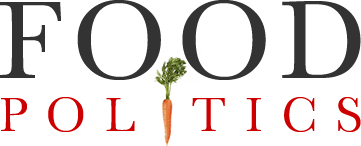 by Marion Nestle
Food corporations recognize need to improve their practices: a glimmer of hope?
I have a subscription to Politico's Morning Agriculture daily newsletter, an invaluable source of information about doings in Washington DC that I would not otherwise know about.
Politico's business model usually blocks access to articles from non-subscribers, which makes it difficult to refer to articles that you will not be able to read for yourself.  Sometimes I can find other sources for the same information, but not always.
Nevertheless, I want to point you to two recent Politico articles about how food corporations are getting together to jointly try to improve their production and supply chain practices.
Chocolate companies
The first was about how three large chocolate firms— Mars Wrigley, Mondelēz and Barry Callebaut—have called on the European Union to promote sustainable cocoa production and to enact regulations that will stop environmental and human rights abuses in production.
According to Politico's behind-a-paywall article,
The Commission declined to comment on the corporates' move but officials are considering due diligence schemes, market controls and product labeling with a possibility of specific measures for commodities such as soy, palm oil and beef.

Cocoa is a major driver of deforestation and human rights abuses, including child labor, in countries such as Ghana and the Ivory Coast, which together account for around two-thirds of global production.
Effects of agriculture on climate change
Politico, happily, released this magazine-length article titled "How a closed-door meeting shows farmers are waking up on climate change," for open access.  It ought to win prizes for its author, Helena Bottemiller Evich.
In it, she describes how Big Ag companies, high-level US agricultural officials, and CEOs of major food companies are not only talking about climate change, but recognizing that they have to act to prevent it.
But that's not all:
In Nebraska, farmers are exploring ways to reorient their farms to focus on rebuilding soil and sequestering carbon — a buzzy concept known as regenerative agriculture. In Florida, where rising sea levels are not a hypothetical discussion, farmers and ranchers have recently launched a working group to discuss climate change and how agriculture can help. Similar groups have cropped up in North Carolina, Ohio and Missouri and more states are expected to follow. In Iowa, faith leaders have been engaging farmers on the topic, hosting discussion groups in churches and building a network of farmers who are comfortable speaking publicly about climate change, whether it's telling their story to reporters or 2020 Democratic candidates.
This is happening despite the politics of climate change.
Rural communities tend to be overwhelmingly Republican, which is one reason why talking about climate change has been politically taboo. It's seen as a Democrat thing. Dig a little further, though, and the resistance runs much deeper than party politics. In many ways, climate change denial has become a proxy for rural Americans to push back against out-of-touch urbanites, meddlesome environmentalists and alarmist liberals who are seen as trying to impose their will on small towns and farming communities they do not understand.
Recognition of a problem is a necessary first step to getting it fixed.
Many of these companies are increasingly recognizing they can't meet their goals without significant changes to farming practices at the base of their supply chains.
Yes!
This article is worth reading in its entirety.  It offers glimmers of hope that Big Ag and Big Food will change their practices and embrace sustainability and regenerative agriculture.
Our job?  To push them to change and cheer them on when they do.