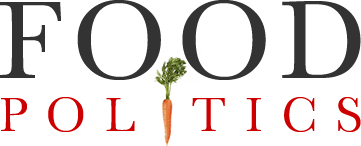 by Marion Nestle
Politico's investigative report on the FDA: a must-read
Politico's Helena Bottemiller Evich has produced a blockbuster exposé of the FDA.
If you've been worried that the FDA is not doing its job, you are not alone.  This is an astonishing piece of in-depth reporting on the current status of this agency, which in addition to regulating drugs is responsible for the safety and labeling of three-quarters of the food we eat.
I have long complained that the FDA has two structural handicaps:
The FDA Commissioner is not even close to being a cabinet-level appointment; it is at least two steps down the reporting ladder, meaning lots of reporting requirements and authority.
FDA gets its funding from congressional agriculture committees, even though it is an agency of the Public Health Service.  This result of history puts it secondary to USDA in committee funding priority.
I also have long believed that it would be better all the way around if the FDA strongly regulated the food industry.  Strong regulatory agencies are essential for:
Trust in science
Trust in government
Trust in the food supply
Establishing a level playing field for the food industry
Here's what Bottemiller Evich found when she looked into FDA's delays in getting regulations into place:
Many consumers would be surprised to learn this anemic, slow response is typical for an agency that oversees nearly 80 percent of the American food supply, but slow is what insiders in Washington have come to expect from FDA, regardless of administration.

A monthslong POLITICO investigation found that regulating food is simply not a high priority at the agency, where drugs and other medical products dominate, both in budget and bandwidth – a dynamic that's only been exacerbated during the pandemic.

Over the years, the food side of FDA has been so ignored and grown so dysfunctional that even former FDA commissioners readily acknowledged problems in interviews.
Her investigation comes in five parts:
"It's a struture that's designed to fail." This part deals with leadership challenges.
"A bit of a black hole."   Why the FDA took so long to get out standards for regulating irrigation water, and weak ones at that.
The rage of a million parents.  The FDA's failure to take vigorous action to remove toxic metals from baby food and ensure the safety of infant formula.
"Our food is making us sicker" Why the FDA has been so lax about getting sodium reduced in the food supply.
"They ignore everyone." The agency, which seems excessively responsive to industry, doesn't consult its leaders adequately.
Bottemiller Evich says:
Read the four major findings from our investigation.
Have you complained to the FDA about the Similac recall or another infant formula problem? We want to hear from you.
Every bit of this is worth reading and pondering.  We need a strong, active FDA, unafraid to take unpopular stances to protect public health.
The FDA needs an overhaul.  I hope it comes soon.
Maybe this article will get everyone thinking about how best to get this?
Congressional reactions: Lawmakers demand answers from FDA after investigation on food failures
Sen. Patty Murray (D-Wa.), who leads the Senate Committee on Health, Education, Labor and Pensions, sent a strongly-worded letter to FDA Commissioner Robert Califf Monday afternoon seeking "immediate action to ensure the FDA is doing all it can to fulfill all aspects of its mission to protect the health and safety of the American people."
Rep. Frank Pallone (D-N.J.), chair of the House Energy and Commerce Committee, tweeted Monday that he is requesting a briefing from the agency.
House Appropriations Chair Rosa DeLauro (D-Conn.) also tweeted criticism over the weekend: "The 'F' in FDA has come to mean 'failure' on food safety," she wrote. "We must greatly intensify the pressure to get the FDA to do its job and to keep the American people safe and alive.
Bill Marler's: FDA's failures have consequences – real people – here is one story – there are countless others
The FDA's?  The agency has not released a statement but by coincidence it is holding a webinar tomorrow on one aspect of Politico's investigation.  An opportunity to ask questions?
Please join the U.S. Food and Drug Administration (FDA) for a webinaron April 13, 2022 at 2 p.m. on the Foodborne Outbreak Response Improvement Plan that the agency released in early December 2021.
Michael Taylor on the need for a separate food safety agency or better direction for food within FDA.