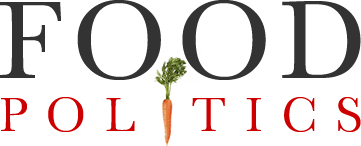 by Marion Nestle
The FDA responds
My post last week on the FDA's lack of action on ensuring the safety of infant formula elicited this response from Taryn Webb, Health Communications Specialist at CFSAN/FDA:
Hi Marion,

In your article below, "Alarming (in)action from the FDA," you assert that "If FSMA did not require companies to notify the FDA when they found contamination, the FDA should be going to Congress to get that authority to announce its rulemaking to get that authority." These statements could mislead readers to believe that the agency has not taken action to obtain this authority from Congress. In fact, the FDA is specifically seeking new authority to compel reporting of product positive test results for relevant pathogens (see FY 24 FDA Legislative Proposal titled, "Product Testing Requirements for Foods Marketed for Consumption by Infants and Young Children," available at: https://www.fda.gov/about-fda/reports/budgets). Furthermore, the statement "FDA should…announce its rulemaking to get that authority," is factually incorrect as without statutory authority, we are not in the position to undertake rulemaking to require such reporting. To reiterate what appears to be a point of confusion, the FDA cannot create authorities that we do not have through rulemaking. We did notice that you later updated your article at the very bottom to note that FDA did request such authority. However, your initial article and email distribution to readers contained incorrect information.

We are seeing a troubling pattern of articles with erroneous information that then get amplified. In the future, we would appreciate it if you contacted us before publishing articles that are solely about FDA so that we can provide you with the most up-to-date, correct information. You can reach out to our communications staff, which include myself and Jen Dooren (copied here) or by emailing CFSANTradepress@fda.hhs.gov.
As I see it, the "troubling pattern" here is FDA's responses to advocates like me who want to support this agency's role in making sure food companies in general—and infant formula companies in particular—do not produce unsafe food.  I want to encourage the FDA  to put public health as its first and immediate priority, as it is supposed to as an agency of the US Public Health Service.
I did not know about the FDA's request to Congress.  The agency did not publicly announce it was asking for that authority.  I only learned about it from Helena Bottemiller Evich's Food Fix newsletter, to which I subscribe.  I corrected my post as soon as I could.
Evich has her own issues with the FDA.  In her Food Fix letter last Friday, she said:
I updated last week's post on FDA asking (not telling) infant formula makers to disclose contamination to clarify that the agency has determined it doesn't have the authority to require this disclosure.  It's perfectly normal for an agency to seek a clarification on something, as FDA did here, and I was happy to update the post – no problem. What I did take issue with, however, is FDA Commissioner Robert Califf characterizing the coverage as "misinformation" on Twitter.

…As I reported in Tuesday's newsletter, FDA asked Congress last week for this test reporting authority in a budget document. This is notable, but it raises another critical question: Why didn't the agency formally make this request earlier? It wasn't in the agency's budget request last year. It's been more than a year since the massive Abbott Nutrition infant formula recall, and we've seen a handful of smaller recalls over Cronobacter concerns in recent months. And infant formula shortages and disruptions continue in many parts of the country.
If she didn't know that FDA had asked Congress for test-reporting authority, it's because the FDA wasn't screaming for it as it should have been doing from the moment the infant formula crisis began.
The lives of infants are at stake.
Here what I wish the FDA had said from the beginning of the infant formula crisis and would still say:
"Marion, we are devastated by what has happened with infant formulas.  We can't sleep for worrying about how we can protect infants from harm.  We are doing everything in our power to force formula producers to make sure their prevention controls are in place and monitored.  We never want this to happen again and won't stop pushing them until we are sure infant formula is safe."
I apologize for my error.  But I stand by my concerns.  FDA: If you want the troubling pattern to go away, fix the problem.
*******
For 30% off, go to www.ucpress.edu/9780520384156.  Use code 21W2240 at checkout.