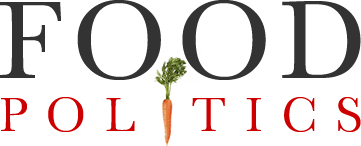 by Marion Nestle
Defections from the Grocery Manufacturers Association: Rats leaving a sinking ship?
I've written many times about the Grocery Manufacturers Association (GMA), an organization so locked into the interests of its food-company donors that you can count on it to vehemently oppose every consumer-friendly measure that gets proposed.
A couple of weeks ago, Politico's Helena Bottemiller Evich and Catherine Boudreau wrote what they discovered about the unraveling of the GMA: the big Washington food fight.
The defectors so far:
Campbell Soup
Nestlé (my non-namesake)
Dean Foods
And, most recently, Mars.
Mars says:
At this time, we believe we can more effectively drive our business objectives and meaningful progress for our categories and consumers by working with other like-minded companies and through other sector-specific trade associations and collaborations.
What's going on?  Easy.  GMA just isn't keeping up with today's marketplace.
Politico's analysis (these are quotes):
Companies are increasingly under pressure to find growth in a market where more and more consumers are seeking healthier fare, whether they're buying organic baby food, cereal without artificial colors or meats raised without antibiotics.
As legacy brands lag, food companies have two options: Change to compete or buy up the new brands that are already growing rapidly.
With each episode of discord, both internally and publicly, it becomes harder for GMA to convince its members to pay fees to belong to a trade group that's rife with division and, at times, fights against issues they either don't want fought or don't want to be associated with.
"More than one food industry lobbyist has told me that they spend more time lobbying their industry association than they do Capitol Hill," said Scott Faber, vice president of government affairs at the Environmental Working Group.
Many in Washington think GMA has been tone deaf as it has, in some cases, kept up lavish spending even as its members are cutting costs and laying off workers to meet their quarterly targets.
"I don't know a single challenger brand that's said 'hey, I need to join GMA,'" said John Foraker, the founder and former CEO of Annie's.
My favorite quote comes from Jeff Nedelman, who was a VP of communications at GMA during the 1980s and '90s: "To me, it looks like GMA is the dinosaur just waiting to die."
May it rest in peace.