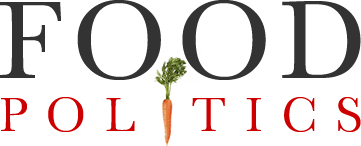 by Marion Nestle
Orwell-speak from USDA: new SNAP rules
The USDA, straight out of George Orwell's 1984, has promised "new SNAP flexibilities to promote self-sufficiency."
What does USDA mean by "flexibilities"?  Here are its exact words (I put the key words in quotes and in bold for emphasis:
"Self-Sufficiency" – The American dream has never been to live on government benefits. People who can work, should work. We must facilitate the transition for individuals and families to become independent, specifically by partnering with key stakeholders in the workforce development community and holding our recipients accountable for personal responsibility.
"Integrity" – We must ensure our programs are run with the utmost integrity. We will not tolerate waste, fraud, or abuse from those who seek to undermine our mission or who do not take their responsibility seriously.
"Customer Service" – Together, we must ensure that our programs serve SNAP participants well. In order to achieve a high degree of customer service, we at FNS must also provide States the flexibility to test new and better ways to administer our programs, recognizing that we are all accountable to the American taxpayer for the outcomes.
Why the quotes?  Because the words mean anything but what they say.  Hence: Orwellian.
This is the USDA's first attack on SNAP.  Prediction: more to come.