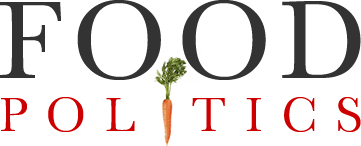 by Marion Nestle
Defections from the Grocery Manufacturers Association: adding up
Nonrenewals of membership in the Grocery Manufacturers Association (GMA) are adding up (see my previous post on this).  Helena Bottemiller Evich at Politico is keeping score (this may be behind a paywall):
Hershey
Cargill
Tyson
Unilever
Mars
Campbell Soup
Nestlé (my non-namesake)
Dean Foods
The GMA has long behaved as if the food movement doesn't exist and its industry can continue to take consumer-unfriendly positions on food issues that the public cares about—with no consequences.
Politico quotes a spokesman for the GMA:
GMA and its board are continuing our work to build the new GMA for the future to meet the needs of long-time and new member companies and of consumers…The food industry is facing significant disruption and is evolving — and so is GMA. We all will continue to evolve and change at an even faster pace.
I have some suggestions for this evolution:
Listen to consumers.
Understand why sustainability and health are issues that matter so deeply.
Help food companies produce healthful, sustainable products.
Stop fighting measures aimed at health and sustainability.
Become part of the solution; stop being the problem.