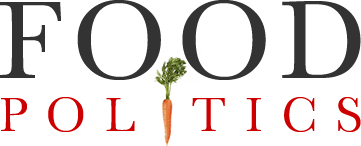 by Marion Nestle
USDA makes school meals more flexible (translation: less nutritious)
The USDA announces its revised school meal rules, in words that would make George Orwell proud:
The U.S. Department of Agriculture (USDA) today provided local food service professionals the flexibility they need to serve wholesome, nutritious, and tasty meals in schools across the nation. The new School Meal Flexibility Rule…reflects USDA's commitment, made in a May proclamation to work with program operators, school nutrition professionals, industry, and other stakeholders to develop forward-thinking strategies to ensure school nutrition standards are both healthful and practical…This action reflects a key initiative of USDA's Regulatory Reform Agenda, developed in response to the President's Executive Order to alleviate unnecessary regulatory burdens.
Try and get your head around this.  The revised rules make school meals less nutritious.  They allow schools to:
Serve flavored rather than plain low-fat milk (higher in sugar)
Be exempt from serving whole grain-rich products.
Have until the end of the 2020-2021 school year to reduce the salt in school meals.
This rule will be in effect for SY 2018-2019. USDA is accepting public comments for longer term use at www.regulations.gov.
I will never understand why adults would lobby to make school meals less healthful, but here is the School Nutrition Association praising the changes.  The Association cites survey data indicating that 65 percent of school districts are having trouble with whole grains and 92 percent with sodium requirements.
I love Margo Wootan's quote (she is director of nutrition policy at the Center for Science in the Public Interest):
The proposal is a hammer in search of a nail…Virtually 100 percent of schools are already complying with the final nutrition standards, including the first phase of sodium reduction.
Here are: