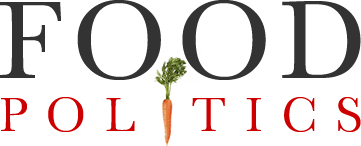 by Marion Nestle
The meat problem #1: Coronavirus in slaughterhouses and packing plants
Because the amount of information about what's happening with meat is so overwhelming. I'm going to be dealing with it all this week.
Let's start with Covid-19 illnesses and deaths of people working in slaughterhouses—workers and USDA inspectors.
How bad is the Covid-19 situation in slaughterhouses and packing plants?
The Food and Environment Reporting Network (FERN) is Mapping Covid-19 in meat and food processing plants.  As of May 15:
at least 209 meatpacking and processed food plants and 11 farms have confirmed cases of Covid-19, and at least one meatpacking plant and four processed food plants are currently closed. At least 15,744 workers  (14,271 meatpacking workers, 1,058 food processing workers, and 415 farmworkers) have tested positive for Covid-19 and at least 65 workers (59 meatpacking workers and 6 food processing workers) have died.
In Texas, for example, testing is turning up hundreds of cases of Covid-19 among workers in meat packing plants.
It's not just workers who are getting sick and dying.  USDA inspectors are too.  Food Dive reports that 197 field employees in the Food Safety and Inspection Service ​(FSIS) tested positive for coronavirus, 120 are under quarantine, and three died (as of May 7).
And now a fourth USDA inspector has died.
many inspectors were expected to find their own protective gear since USDA wasn't able to secure face masks for all of its workers. In April, USDA said it would give a $50 reimbursement for inspectors to find their own, according to Politico.
Who is to blame?
According to Politico, Alex Azar, the Secretary of Health and Human Services,
suggested to lawmakers at the end of April that meatpacking employees were more likely to catch the coronavirus based on their social interactions and group living situations than from exposure on the job…But after the story published, spokesperson Michael Caputo said in a statement that "Secretary Azar simply made the point that many public health officials have made: in addition to the meat packing plants themselves, many workers at certain remote and rural meatpacking facilities have living conditions that involve multifamily and congregate living, which have been conducive to rapid spread of the disease."
Blaming the victims does not explain why inspectors are getting sick.
Of course, conditions at the plants are responsible.  As quoted in the Politico story, 
"America's meatpacking workers are putting their lives on the line every day to make sure our families have the food they need during this pandemic," UFCW International Vice President Ademola Oyefeso said in a statement. "Secretary Azar is cowardly pointing the finger at sick workers and peddling the same thinly-veiled racism we have heard from far too many in positions of power."
Why can't we get authoritative information about worker illnesses and deaths?
FERN is doing its best to keep track, against all odds.
FERN's ongoing analysis of Covid-19 cases in the food system has found that more than 14,200 meatpacking plant workers have tested positive for the virus since mid-April. That figure, derived primarily from local news reports and state officials, is likely an undercount given the lack of data available from meatpackers.
Nebraska, for example, won't allow tracking of cases.
Governor Pete Ricketts said Wednesday that the state won't be releasing specific numbers of cases at meatpacking plants, saying it's a matter of privacy.
A Texas plant refused to allow the state to test workers, but then relented under pressure from the press.
State health officials say the JBS Beef plant rejected its efforts to test all employees. The company switched gears Wednesday afternoon after the Tribune reported on the lack of testing at a plant tied to a rapidly growing cluster of coronavirus cases.
Meat plants are a viral epicenter
Along with nursing homes, prisons, and other crowded places, meat packing plants are especially vulnerable, and not just in the U.S.  Slaughterhouses in Germany are also sites of lots of cases, and for the same reasons.
Tomorrow: The order to keep plants open.