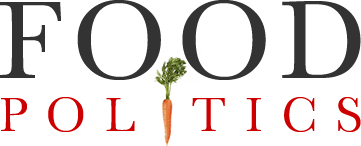 by Marion Nestle
Harvest boxes: the ongoing saga
Let's start the latest round of items related to food boxes for the hungry (which I've been following closely) with the New York Times Sunday Magazine cover for May 31: cars lined up in San Antonio for handouts from food banks.
To deal with this problem—and that of farmers destroying animals and crops—the USDA  has issued contracts to companies to collect the food and pack it into boxes to be delivered to food banks.
The contracts were issued in a great hurry, with just the kind of results you might expect.
Some members of Congress were so concerned about the haste and lack of oversight that they wrote a letter to Secretary Perdue raising questions about the entire process.
This new program was announced on April 17, 2020, and solicitations were accepted for one week.  USDA then announced $1.2 billion in contracts just one week later, on May 8, 2020, with awardees expected to begin box deliveries as soon as May 15, 2020…We are concerned, however, that contracts were awarded to entities with little to no experience in agriculture or food distribution and with little capacity to meet the obligations of their award.
Little funding is going for boxes in New England, for example, and none to Maine or Alaska.
Put another way, the Northeast has 10% of the country's population and 33% of COVID-19 cases but is receiving only 4% of food relief dollars, according to ProPublica's analysis of data from the USDA, the Census Bureau and Johns Hopkins University.
USDA has already cancelled one $40 million contract with an avocado producer.
Politico's Helena Bottemiller Evich and Ryan McCrimmon have been closely following this story, particularly events related to a company in San Antonio.
CRE8AD8 (pronounced "create a date"), a San Antonio event marketing firm, received $39 million to deliver food boxes in the Southwest, sparking questions about its qualifications from produce industry veterans, local lawmakers and top ag policymakers in Washington. The San Antonio Express-News also reported that the company made dubious claims about its clients, credentials and affiliations.
They report that Lloyd Doggett (D-Texas) wrote to Secretary Perdue calling for revocation of the contract.
Despite these objections, the USDA rushed through a license to CRE8AD8 to allow it to operate as a produce business. CRE8AD8 posted on its Facebook page: "We've received our PACA license! Let's feed America!"
The reporters note:
It's been more than a month since an aerial photo of thousands of cars waiting in line for food in a San Antonio parking lot went viral — a gut-wrenching sign of the huge need amid economic fallout from Covid-19. But USDA's new Farmers to Families Food Box program has yet to come through for that hard-hit community.,,The San Antonio Food Bank has not received a single box from CRE8AD8 (pronounced "create a date"), the embattled event planner that received a massive $39 million USDA contract in its own backyard. The food bank says it's currently getting about 10 percent of what it expected from the program, all from smaller contractors.
Overall,
The fledgling food box program is working well for many nonprofits and food banks serving food to people in need. Of the roughly dozen major food banks POLITICO contacted, nearly all reported that they had begun receiving boxes, though many deliveries starting behind schedule.
All of this is likely to go on for a long time.  The Packer says that USDA will do a second round of funding for box distributors.
The U.S. Department of Agriculture is planning another round of contracts for the Farmers to Families Food Box Program, according to an administrator of the program who touted its successes during a Produce Marketing Association Virtual Town Hall.
Additions
From Politico, June 1:
The Texas-based event planner that received a $39 million contract from USDA to supply boxes of meat, dairy, fruits and vegetables has delivered its first 235 boxes to the San Antonio Food Bank. CRE8AD8 agreed to provide 750,000 boxes to feeding organizations across the Southwest by June 30. The company's CEO said more food will be delivered this week to food banks in Arizona, Texas and Utah. More from the San Antonio Express-News.
From Politico, June 2: The Wisconsin dairy industry is concerned that its industry has been left out of the USDA payments for boxes; Members of Congress wrote the USDA Secretary to complain that Wisconsin-based businesses received less than 1 percent of the funding.