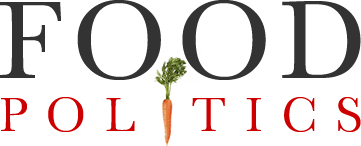 by Marion Nestle
Industry-funded study of the week: rye products vs. body weight
I first learned of this study from a headline in the newsletter, BakeryAndSnacks.com: "Swedish RyeWeight study confirms bread can actually aid weight loss."
Swedish researchers have found that breakfasting on rye bread significantly reduces appetite, resulting in 16% fewer calories consumed at lunch. What's more, the suppression of appetite continued well into the afternoon
This seemed worth a look.  Here's it is.
The study: A hypocaloric diet rich in high fiber rye foods causes greater reduction in body weight and body fat than a diet rich in refined wheat: A parallel randomized controlled trial in adults with overweight and obesity (the RyeWeight study).  Clinical Nutrition ESPEN.  Volume 45, October 2021, Pages 155-169.
Methods: Subjects with overweight or obesity consumed a weight-loss diet that contained either high fiber rye products or refined wheat products for 12 weeks.
Results:  Participants in the rye group lost 1.08 kg body weight and 0.54% body fat more than the wheat group, and their C-reactive protein was 28% lower.  There were no consistent group differences on subjective appetite or on other cardiometabolic risk markers.
Conclusion:  Consumption of high fiber rye products as part of a hypocaloric diet for 12 weeks caused a greater weight loss and body fat loss, as well as reduction in C-reactive protein, compared to refined wheat. The difference in weight loss could not be linked to differences in appetite response.
Sources of support: Formas, grant no.: 2014-00542. Barilla and Lantmännen pro-vided additional funding for the study (8% of total study budget each) and provided the intervention products.
Conflict of interest: RL is the founder of the Nordic Rye Forum, which is a research and dissemination platform for research related to rye and health that includes academic institutions as well as institutes and food industry with interest in rye across the Nordic region. The forum and its activities are funded by the industrial partners. RL is the PI of several projects funded by several cereal industrial companies. Such funding is used to carry out scientific studies. RL receives no salary, honorary, or by any other means has any personal economic benefits from industrial collaborations. Remaining authors declare no conflicts of interest.
Comment: The industry-funded Nordic Rye Forum has an interest in promoting rye consumption.  Its industry partners are listed here.  Two of them helped fund the study.  They must have appreciated the results.
Once again, the issue here is the potential for unconscious bias under the influence of industry funding.
Reference: For a summary of research on the "funding effect"—the observation that research sponsored by food companies almost invariably produces results favorable to the sponsor's interests but that recipients of industry funding typically do not recognize its influence—see my book, Unsavory Truth: How Food Companies Skew the Science of What We Eat.