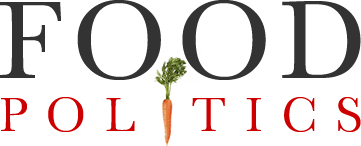 by Marion Nestle
Happy holidays! Sustainable Development Goals
I'm going to take next week off (unless some crisis occurs).  This will be my last post in 2021.  Stay healthy over the holidays.  See you on January 3 2022.
In the meantime, enjoy this announcement from the UN's Food and Agriculture Organization: Rome's traditional Christmas lighting illuminates SDGs.
The SDGs, of course, are the UN's Sustainable Development Goals, which I've written about previously.
FAO says:
The official ceremony to inaugurate the 25 meter high fir on Piazza Venezia in Rome's historic city centre took place today as the Italian capital launched the initiative "Christmas in Rome – Let's give the gift of a sustainable city"

…Each gift package displays a QR code which, when scanned by visitors with their smartphones provides them with information compiled by FAO experts about concrete actions each of us can take to make our lifestyle more sustainable and start building a better future for the planet, our city and its people.,..Additional content is also accessible to visitors both in Rome and all around the world via a web App and through the FAO website.
How's that for wishing us all a useful, productive, and optimistic holiday season.  May the new year bring us all peace, prosperity, and healthy and sustainable food systems.