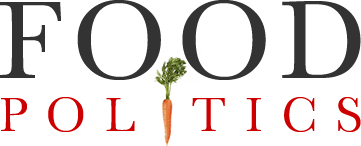 by Marion Nestle
FDA's big accomplishment: revoking standard of identity for French dressing
If you want to know what preoccupies the FDA, takes up its time, and keeps it from giving food safety the attention it needs, try this for a burning issue: Revocation of the Standard of Identity for French dressing.
Why would the FDA go to all this bother (and it looks like a lot of bother?
Because it was petitioned to do so by the Association for Dressings and Sauces (ADS).
If, like me, you had never heard of this trade association,
it represents manufacturers of salad dressing, mayonnaise and condiment sauces and suppliers of raw materials, packaging and equipment to this segment of the food industry.
Background: Standards of Identity
These date back to the Federal Food, Drug, and Cosmetic Act of 1938. They say what a food product must contain, in what proportions, and, sometimes, how it must be manufactured. Foods called things like 'milk chocolate,' 'bread' and 'ketchup' have standards of identity.  Because some of these standards date back 80 years, the FDA has called for comments on modernizing them.
When the FDA extended the comment period, it explained the goals for updating Standards of Identity:
Protect consumers against economic adulteration;
Maintain the basic nature, essential characteristics and nutritional integrity of food; and
Promote industry innovation by giving manufacturers the flexibility to produce healthier foods.
The French Dressing standards
Check this for level of effort over more than 70 years.
In the Federal Register of August 12, 1950 (15 FR 5227), we established a standard of identity for French dressing. We later amended that standard of identity in the Federal Registers of May 10, 1961 (26 FR 4012), February 12, 1964 (29 FR 2382), February 1, 1967 (32 FR 1127 at 1128), May 18, 1971 (36 FR 9010), and November 8, 1974 (39 FR 39554), to allow the use of certain ingredients in French dressing. We also re-designated the French dressing standard of identity as § 169.115 (21 CFR 169.115) (42 FR 14481, March 15, 1977).
The Association for Dressings and Sauces complained—in its January 1998 petition— that nonstandardized pourable salad dressings such as Italian, Ranch, cheese, fruit, and peppercorn, have proliferated as have those reduced in fat, "light," and fat-free. Because of this variation, and because consumers now expect French dressing to contain tomato-derived ingredients, be reddish-orange color, and sweet, the French dressing standard of identity "no longer serves honesty and fair dealing in the interest of consumers."
It took more than 20 years, but the FDA now agrees.
Commentary
Ted Kyle of ConscienceHealth.org, who always has thoughtful and interesting things to say about food issues (even when we disagree), asks a good question: Does Anybody Care What's in French Dressing?  He points out that standards protect the integrity of real as opposed to ultra-processed foods.
The New York Times quotes food historian Ken Albala:
"I can picture the people at Kraft sitting down at a board meeting and the chief marketing guy saying, 'Do you know the sales of French dressing have dropped off by x and y?' " Professor Albala said that the change could allow food companies to revamp their recipes for French dressing as a way to try to boost sales.
 The Times also noted:
In response to the F.D.A.'s announcement of the change on Twitter, some people mocked the agency on Wednesday and said that it should concentrate more on its regulatory role in the coronavirus pandemic. The agency said in the newly published rule that it had received at least one comment as part of its review that questioned its priorities.
My point precisely.