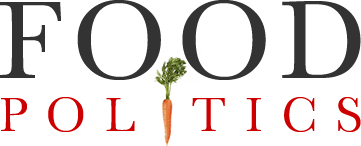 by Marion Nestle
At last some love for nutrition
Last week was a busy time for high-level thinking about nutrition.
I'll start with this from Chef José Andrés.
A message from @WCKitchen's @chefjoseandres on child #nutrition: Child nutrition programs play an essential role in ensuring food and nutrition security for the nation's youth. pic.twitter.com/kZ4i7JGYVK

— Bipartisan Policy Center (@BPC_Bipartisan) January 27, 2022
For the rest, I am indebted to Politico Morning Ag for gathering all this in one place.
Nutrition research: Last week, Sens. Cory Booker (D-N.J.) and John Cornyn (R-Texas) appeared at an event focused on "sustainable nutrition science" hosted by the Union of Concerned Scientists and Tufts University's Friedman School of Nutrition Science and Policy.  The are sponsors of the Food and Nutrition Education in Schools Act.  I watched Booker's remarkably inspiring talk and wish I could find a video or transcript of it.
Booker held hearings on nutrition last year.  I have a transcript of his opening remarks.  Here is an excerpt:
Now let's be clear about something: the majority of our food system is controlled by a handful of big multinational companies. These big food companies carefully formulate and market nutrient-poor, addictive, ultra-processed foods — ultra-processed foods which now comprise 2/3 of the calories in children and teen diets in the U.S — and then these companies want us to believe that diet related diseases such as obesity and diabetes are somehow a moral failing, that they represent a lack of willpower or a failure to exercise enough.
That is a lie.
It is not a moral failing, it is a policy failure.
Food is Medicine: Food and Society at the Aspen Institute and Harvard's Center for Health Law and Policy Innovation released a Food is Medicine Research Action Plan, a lengthy report detailing recommendations for how to bolster nutrition interventions in health care.
Food is the leading cause of poor health in the United States. Over half of American adults suffering from at least one chronic, diet-related disease. This health crisis has devastating effects for individuals and their and families and places an immense burden on our health system and economy. Though food is the culprit, it can also be the cure. Food and nutrition interventions can aid in prevention and management, and even reverse chronic disease. Introduced at large scale, proven interventions could save millions of lives and billions in healthcare costs each year.
Universal free school meals: The Bipartisan Policy Center released recommendations from its Food and Nutrition Security Task Force.   The report has recommendations for strengthening nutrition education and security in and out of school.  For example:
Ensure all children, regardless of household income, have access to nutritious foods to allow them to learn and grow by providing school breakfast, school lunch, afterschool meals, and summer meals to all students at no cost.
Make Summer EBT a permanent program and allow students to access EBT benefits during school breaks, holidays, closures, and other emergencies.
Maintain and, if possible, strengthen nutrition standards for all programs to better align them with the latest Dietary Guidelines for Americans.
Pandemic EBT program: The Government Accountability Office recommended that USDA do a better job on nutrition assistance during emergencies and of implement the Pandemic-EBT program, which was supposed to give eligible school children charge cards for buying foods, but never worked well.