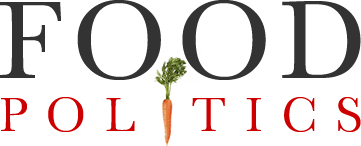 by Marion Nestle
The Ukraine War and food systems: items
The tragedy of the Ukraine War is beyond comprehension.  Like everything else, it affects food systems, and not just for the people caught up in it.
I've been collecting items, starting with Jose Andres @chefJoseAndres and World Central Kitchen @WCKitchen who are providing hundreds of thousands of meals to people fleeing from the Ukraine.
And then this one:
Why the silence?
"Unlike other chains, McDonald's owns the vast majority of its 847 restaurants in Russia. According to a page for investors, Russia accounts for 9 percent of the company's total revenues and 3 percent of its operating income."
"Last year, Russia accounted for $3.4 billion, or more than 4 percent, of PepsiCo's $79.4 billion in revenues."
Other items are about what this war means for agricultural trade, food prices, and specific food businesses—especially pet food.
The Field Report: What the Invasion of Ukraine Means for the Food Supply: From the challenge of feeding millions of refugees to rising food prices and disrupted wheat crops, the war could have an outsized impact on the food system.
Russian invasion of Ukraine: Implications for EU agriculture and dairy:   The Russian invasion of Ukraine has already led to massive destruction, loss of life, sanctions, and ramped up rhetoric on both sides…. Read more
Russian invasion of Ukraine threatens food commodity prices, supply chains & consumer confidence: The food industry, already grappling with high inflation, supply chain constraints and transportation challenges related to the pandemic, could see surging prices of key commodities, fuel and energy following what chief of the NATO alliance described as Russia's "brutal act of war" against Ukraine across three main fronts this week…. Read more
Why the Ukraine conflict could spark 'dangerous times' for food prices and food security.  Producers in Europe fear the Ukraine crisis may result in rising prices of items such as bread, baked goods and beer that may be passed on to end consumers…. Read more
Food and beverage companies suspend operations in Ukraine:  Several international food and beverage companies have temporarily shut down operations in Ukraine following Russia's invasion to ensure the safety of employees while bracing for the long-term economic impact that skyrocketing commodity prices and potential sanctions will have on their businesses…. Read more
Food Security (Even Beer) Will Suffer from Ukraine:  The stupid, senseless war in Ukraine is causing massive suffering. For anyone who is paying attention, that much is perfectly clear. Stepping back from the dire, immediate humanitarian crisis, economists are fretting about the shocks coming from oil prices. But the shock to the global food supply will also be huge.
Nestle 'tentatively' reopens Ukrainian factories to restock empty food shelvesThe Swiss food giant is restarting some of its operations in Ukraine in order to support the delivery of essential food and beverages to those who remain in the country…. Read more
War in Ukraine is 'a huge tragedy for European confectionery family', says BDSI: The Association of the German Confectionery Industry (BDSI) has welcomed tough sanctions imposed by the European Union on Russia, following its invasion of Ukraine, saying that the speed they were introduced shows the basic principles of the region are alive…. Read more
What are dairy companies saying – and doing – on the war in Ukraine?  Following Russia's invasion of Ukraine, and the subsequent sanctions imposed upon Russia, doing business with the world's largest country is becoming increasingly complicated…. Read more
P&G aids Ukrainian employees, curtails Russian operations:  Procter & Gamble is helping its Ukrainian employees evacuate while providing them food, shelter and financial support, P&G CEO Jon Moeller wrote in a company letter. P&G has stopped all media campaigns and capital investments in Russia and has trimmed its Russian portfolio to offer primarily health, hygiene and personal care products, added Moeller.
Coca-Cola withdraws business from Russia while other companies remainCoca-Cola is the latest major global food and beverage giant to suspend operations in Russia as an act of protest against the Russian invasion and continued attack on Ukraine and follows similar announcements made by PepsiCo, Starbucks, and McDonald's…. Read more 
Abbott Condemns the War and Violence in Ukraine and Pledges $2 Million to Support Humanitarian Efforts.  Abbott stands with the international community condemning the war and the violence in Ukraine against its people, and calls for peace.  Our top priority is supporting the safety and wellbeing of our Ukrainian employees and we are taking all steps we can to assist them.  [Comment: Would this have anything to do with deflecting attention from the food safety recall of its infant formula?]
Here are the pet food items: