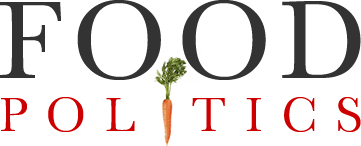 by Marion Nestle
PepsiCo' push into regenerative agriculture: real or greenwashing?
Thanks to Hugh Joseph for sending this piece on PepsiCo's commitment to regenerative agriculture in its supply chains: From regenerative ag to reformulation: A deep-dive into how PepsiCo is 'reimagining the way food is grown, made and enjoyed'
When PepsiCo launched Pep+ in October 2021, the company said it wanted to 'fundamentally change' how it does business for the betterment of people and planet​. From ingredient sourcing and production to supporting consumers make choices that are 'better for themselves and the planet', Pep+ outlined an ambitious agenda of business transformation.  The company wants to:

 Spur transition to regenerative practices across land that is equivalent to its entire agricultural footprint, approximately seven million acres.
Reduce reliance on chemical inputs (but does not rule out their use).
Secure the future of farming communities and farmer incomes.
Support farmers by helping them with high fuel and fertilizer costs.
Support rural communities – and female farmers in particular.
Transition towards more than 70% of the company's global electricity needs in direct operations are met by renewables.
Reach net zero emissions by 2040.
Improved operational water-use efficiency by 18% in high water-risk areas.
Use 100% rPET by the end of this year, contributing to 87% of PepsiCo-owned drinks portfolio in the European Union being made using 100% recycled or renewable plastic.
Eliminate virgin fossil-based plastic in all crisp and chip bags..
And then there are Pepsi's nutrition objectives [recall: Pepsi makes snack brands like Walkers and Dorito alongside its line-up of fizzy drinks].
Use more chickpeas, plant-based proteins and wholegrains.

Expand nuts and seeds category.

In Europe, cut added sugars in its soft drinks by 50% .

Improve the nutritional quality of snack products.
My questions:
Is this real or greenwashing and healthwashing?
Who is holding Pepsi accountable for achieving these objectives?
The larger question is whether Pepsi's portfolio of snack foods and sugary drinks can ever be sustainable?
In 2011, I was quoted in a New Yorker article about Pepsi's health initiatives.
As part of PepsiCo's commitment to being "the good company," the corporation wants to play a leading role in public-health issues, and particularly in the battle against obesity. Some people think this is ludicrous. Marion Nestle, the author of "Food Politics" and a professor of food studies at N.Y.U., told me, "The best thing Pepsi could do for worldwide obesity would be to go out of business."
I probably wouldn't use the word ludicrous (and I'm not sure I did then), but the effort was certainly unrealistic.
Like all publicly traded corporations, PepsiCo is heavily constrained by shareholder profit objectives.
A decade ago, its shareholders objected to a focus on public health when sales of Pepsi declined.
Has anything changed since then?
************
Coming soon!  My memoir, October 4.
For 30% off, go to www.ucpress.edu/9780520384156.  Use code 21W2240 at checkout.