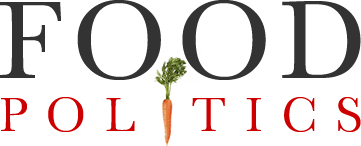 by Marion Nestle
Food warning labels in action: Mexico
I was in Mexico City last week giving the keynote at the FoodTech Summit & Expo.   I could hardly wait to get to the nearby Chedraui supermarket to see what the Mexican warning labels on food packages looked like in practice.
Mexico has high obesity prevalence, especially in children (~35%).  Public health officials hope the warning labels will alert the public to avoid overconsuming processed foods.
Here's what I saw.
I.  It looks like at least half the products on shelves carry warnings of excessive salt, sugar, saturated fat, or calories, or artificial sweeteners.
II.  One of the regulations says that if a product aimed at children requires a warning label, it cannot display cartoon characters.  For products made before the law, supermarkets comply by pasting stickers over the cartoons.
III.  Food companies are doing everything they can to hide the warning labels.  They make sure the warnings are hidden when they stock the packages on shelves (the only reason you can see the two bottles with the warnings is that I turned them around.
The warnings must be working.  Food companies are evading, undermining, and fighting the new regulations.  Several lawsuits are in progress.  I will be following their progress with great interest.
My messages to the food technology congress:
Do not make ultra-processed junk food.
Stop fighting public health measures.