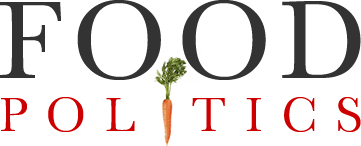 by Marion Nestle
The Academy of Nutrition and Dietetics responds to the Washington Post
I was not going to bother to say anything about this letter addressed to the Washington Post from the President of the Academy of Nutrition and Dietetics (AND), Laurie Wright, which she sent to all members.  But at least five recipients sent it to me for comment, so here goes.
From: Commission on Dietetic Registration <cdr@eatright.org>
Date: September 29, 2023 at 3:19:42 PM EDT
To: [REDACTED]
Subject: Letter to the Editor of the Washington Post from Academy President Lauri Wright

The September 13 article "The food industry pays 'influencer' dietitians to shape your eating habits" does a disservice to the nation's hundred thousand plus registered dietitian nutritionists by painting broad-stroke misrepresentations about the dietetics profession and its association, the Academy of Nutrition and Dietetics.

Using examples of only seven individuals, the authors imply it is common practice for RDNs to have undisclosed affiliations with food companies and sponsors. This could not be further from the truth. More than 90 percent of registered dietitian nutritionists work in clinical health care, such as hospitals, medical centers and long-term care facilities, as well as in private practice, public and community health, school nutrition and other foodservice operations.

A growing number of practitioners do share their knowledge and expert opinions through social platforms, engaging with online communities and correcting health misinformation (much of which comes from potentially harmful fads promoted by infinitely larger numbers of uncredentialed influencers with much larger followings). The Academy of Nutrition and Dietetics has a strict Code of Ethics — which includes adhering to disclosure rules and guidelines established by the Federal Trade Commission — and has published many articles over the years about the importance of disclosure.

The authors further implied that the Academy is funded by the food and beverage industry, citing a long-since debunked "investigation" conducted by a small group of activists that disbanded six years ago. The truth lies in the facts: The Academy uses an independent advisor to manage our financial investments in all sectors of the S&P 500, and less than 3 percent of the Academy's and its Foundation's investments are in the food sector. Further, only 7 percent of the Academy's revenue comes from sponsorships. This information has always been fully transparent to the public through our annual reports.

All this information was provided to the Post reporters in advance of the story, but unfortunately the writers elected to mislead their readers with a false narrative implying that non-disclosure of sponsorships is rampant in our profession. Speaking for Academy members who abide by our Code of Ethics, we expected the Post to abide by a higher journalistic standard as well.
Oh dear.  The cozy relationship between AND members and food companies is something I've written about extensively in my books, Food Politics and, more recently, Unsavory Truth.  
I've also written about the Academy's conflicted interests on this site, most recently here.
And then there is Michele Simon's deep dive into the Academy's relationships with sponsors from a decade ago.
Here's what President Wright's defensive letter does not say:
We apologize for the unethical behavior of some of our members and will immediately take steps to make sure no member does this again.
Non-disclosure of sponsorship is grounds for dismissal from the Academy.
We will strengthen our policies to make clear that the Academy will not tolerate such non-disclosure.
We will insist not only of disclosure of paid posts, but also disclosure of the name of the sponsor.
To make sure members fully understand what is at stake, we are providing guidelines for ethical disclosure and illustrations of what and what is not appropriate.
For your amusement, one reader sent me an Instagram example of full disclosure from Gwyneth Paltrow (who is not, to my knowledge, an AND member)—clearly labeled as a paid partnership with Copperfit.  You have to be logged in to Instagram to open the link.