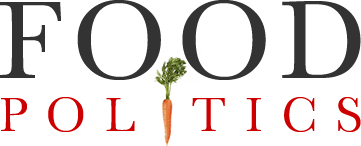 by Marion Nestle
Food, nutrition, and cancer prevention: the latest word
The World Cancer Research Fund and the American Institute for Cancer Research has just come out with an update on their 1997 report on diet and cancer risk and prevention. After five years of research, the groups have produced ten recommendations. These, no surprise, look not all that different from most other sets of dietary recommendations issued for the last 50 years or so for prevention of chronic disease risk.  The recommendations emphasize staying lean and being active ("eat less, move more"). The report will be loaded with data, charts, and references and I'm looking forward to getting my copy. Enjoy!
Be as lean as possible within the normal range of body weight.
Be physically active as part of everyday life.
Limit consumption of energy-dense foods. Avoid sugary drinks.
Eat mostly foods of plant origin.
Limit intake of red meat and avoid processed meat.
Limit alcoholic drinks.
Limit consumption of salt. Avoid mouldy cereals (grains) or pulses (legumes).
Aim to meet nutritional needs through diet alone.
Mothers to breastfeed; children to be breastfed.
Cancer survivors: Follow the recommendations for cancer prevention.