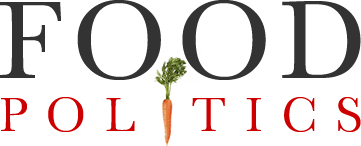 by Marion Nestle
Consolidation in the meat industry: a good thing?
A reader of the last post on the big meat recall asks for the second time (sorry I didn't get to it earlier): "I recently read an article by Tim Phillpot about the consolidation of the meat industry and how this gives them leverage to control how beef is raised and sold. Apparently JBS (Brazil) is planning on buying National Beef Packing here in the US. The comments say that most analysts think the deals are positive. What do you think are the ramifications of such a concentration of power and influence?"
Indeed. We've just seen one result of industry consolidation: a recall of 143 million pounds of ground beef. I'm not sure that everyone views this deal favorably. I'm hearing a lot about anti-trust laws. In its March 5 account, the Wall Street Journal noted that the deals "will almost certainly prompt regulatory scrutiny because of their size and potential effect on the marketplace."
What's this about? The U.S. dollar is weak so American companies are a bargain for foreign investors; beef producers are cutting back on production because of the high price of grain (in part because its grown for fuel); and the industry is worried that the government will enforce safety regulations. If you control a big percent of the market–and the newly merged company will control 33% all by itself–you call the shots. I'm hoping that federal regulators will pay as much attention to this huge beef company merger as as it did to the tiny (by comparison) takeover of Wild Oats by Whole Foods last year.