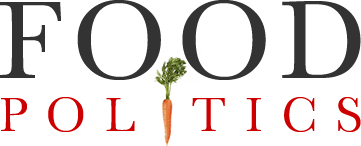 by Marion Nestle
The never-ending peanut butter scandal continues
The New York Times today has a long investigative report on its front page about the implications of the peanut butter recalls for food safety in America.  It's a terrific article and it's wonderful that the Times has at last discovered that the U.S. food safety system is deeply dysfunctional, something the Government Accountability Office has been screaming about for years.
In the meantime, the list of company recalls keeps getting longer (the FDA website identifies them with a bright red NEW!  Safe Tables Our Priority, a group devoted to protecting children from unsafe food, publishes a daily list of individually recalled peanut butter products.  Today's collection alone numbers nearly 40 and is well worth a look.  So are the CDC's cute reminders to throw out your recalled products.
And I can't resist adding a comment on peanut politics.  The Center for Science in the Public Interest's Integrity in Science Watch sends out daily feeds.  Today's (not yet posted) refers to a story in the Atlanta Journal Constitution revealing that the USDA, not the FDA, is responsible for the safety of exported peanuts (they might contain aflatoxin), that its Peanut Standards Board was exempted from conflict -of-interest rules by the 2002 Farm Bill, and that the head of Peanut Corporation of America, the company responsible for the tainted peanut butter, was appointed in October as a member of that Board until 2011.
What more evidence do we need that an overhaul of the food safety system is very much in order.  Congress: this is your problem to solve!  Citizens: write your congressional representatives!