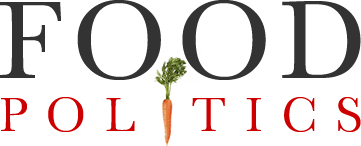 by Marion Nestle
Update on not-so-Smart Choice labels
Three items on the Smart Choices front (make that four – see below):
1.  Let's start with the great video by ABC News [if the link doesn't work, go to the ABC News site and search for Food Label Fight].  It features an incredulous Mark Bittman pulling check-marked products off supermarket shelves, along with Richard Kahn defending the program.  Kahn, as I discussed in What to Eat, defended the American Diabetes Association's (ADA) implied endorsement of Post sugary cereals.  When Jane Brody wrote about this in the New York Times, the Association promised to remove its logo from the products and did so after a bit.
2.  The letter-writing campaign organized by Change.org has had the same effect: "Victory: Change.org Members Force Health Organizations to Back Away from Food Labeling Ploy."
The new marketing program, called "Smart Choices," is a front-of-the-package nutrition-labeling program designed in theory to help shoppers make smarter food choices.

But as the New York Times exposed last week, the selections are anything but healthy. One of the selections is Froot Loops, which was chosen, according to one board member, because "it's better for you than donuts." (No, we're not kidding. We couldn't make this up.)

Despite the program's dubious standards, it maintained the appearance of legitimacy because researchers associated with three reputable organizations – American Diabetes Association, American Dietetic Association, and Tufts University – were on its board.

In response, thousands of Change.org members sent letters to the presidents of these three major research institutions urging them to remove their name from the program.

The result? All three organizations responded to the pressure this week by publicly distancing themselves from the food labeling scheme and officially asking Smart Choices to remove their name from its website and marketing materials – thereby publicly embarrassing and discrediting the program.
Fine, but this one isn't over until the American Society of Nutrition (ASN) also extricates from its commitment to manage the program – a clear conflict of interest.
3.  The Institute of Medicine (IOM) is asking for nominations to a committee to study front-of-package labeling (what follows is edited from the request letter):
The IOM is searching for experts in the scientific, technical, and medical professions to be considered for a study committee titled Examination of Front of Package Nutrition Rating Systems and Symbols (Phase I). The sponsors are the CDC and FDA.   The Phase I committee will undertake a review of front-of-package nutrition rating systems and symbols…[and] will also plan for a Phase II.

Phase I will (a) identify front-of-package systems being used, (b) consider their purpose and overall merits, (c) identify the criteria underlying the systems and evaluate their scientific basis, (d) consider advantages and disadvantages, (e) plan Phase II which will consider the potential benefits of a single, standardized front-of-package food guidance system regulated by FDA (my emphasis).
Send the names of candidates to front-of-pack@nas.edu by October 5, 2009. You do not need to contact the individuals you nominate.
This is great news but I'm way too impatient.  This two-phase process will take years. Is the FDA really going to have to wait that long to take action on front-of-package labels such as Smart Choices?
FDA: How about issuing a moratorium on all front-of-package labels until the committees do their work?
4.  Update, September 24: On that very issue, Congresswoman Rosa de Lauro has asked the FDA to do an investigatation of the Smart Choices program.  Excellent idea!