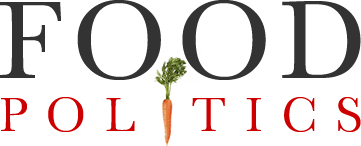 by Marion Nestle
Genetic causes of obesity: 1%?
Recent news reports encouraged me to take a quick look at the January 2010 American Journal of Clinical Nutrition where investigators have attempted to identify the proportion of human obesity accounted for by genetic variation.  Their conclusion: probably no more than 1% (we used to think it was 5%).  I don't know why anyone would be surprised.  Obesity rates rose sharply in the early 1980s, with no possibility for so rapid a change in the genetic composition of the population.
I don't think we need complicated genetic explanations for obesity.  We have so much evidence that people started consuming more calories at about that time and are continuing to do so.  Why more calories?  Portion sizes got bigger, and – hard as it may be to believe – larger portions have more calories!
In a commentary on the study, Claude Bouchard puts it this way:
The obesity epidemic we are facing today unfolded over the past few decades and can clearly not be explained by changes in the frequency of risk alleles. It is more likely due to a changing social and physical environment that encourages consumption and discourages expenditure of energy, behaviors that are poorly compatible with the genome that we have inherited.
Hence: eat less, move more!  And have an active weekend!