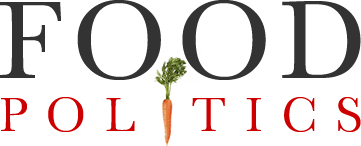 by Marion Nestle
New York City's new health initiative: Salt!
The New York City Health Department is at it again.  First trans-fat, then calories, then sodas.  Now, it's going after salt in packaged foods and restaurant meals.   It is asking for a 25% reduction in the next five years.   How come? Because nearly 80% of salt in American diets is already in packaged and restaurant foods and if you eat them at all you have no choice about the amount of salt you are getting (see previous posts).
The Health Department is sending a clear message: reducing the salt content of packaged and restaurant foods will help New Yorkers stay healthy.
The initiative is voluntary.  But if everyone complied, we would all get used to a less salty taste and the current high salt levels will taste too salty.
This is actually a modest proposal.  We still have a long way to go.  The proposed standard for marketing foods to children, for example,  is 480 mg sodium (more than a gram of salt) per serving.  A mere half-cup of Campbell's low sodium soups contains that much.  Campbell says it's up to you to get the company to do better.
According to today's Wall Street Journal, companies are already cutting the salt, albeit surreptitiously.   And according to the account in the New York Times, a Campbell official said: "We will continue to reduce sodium as long as there's consumer acceptance in the marketplace.
So they think it's up to you.   Fine.  Give companies plenty of reason to cut the salt.  Tell companies you want real consumer choice.   You want to decide how much salt to eat.  In the meantime, FDA: get busy on this one.
Correction, January 22:  Juli Mandel Sloves of Campbell Soup correctly points out that I am in error.  A serving of soup is 8 ounces, not 4, even though the label says that a serving is half a cup.  How come?  Because the can is to be diluted with another can of water, making it 21 ounces divided by 2.5 servings per can, or about 8 ounces.    Complicated, no?  But this means the sodium content is 480 mg per cup, not half cup, despite what the label says.   I apologize for the error.  But isn't this a good reason to redesign the Nutrition Facts label?