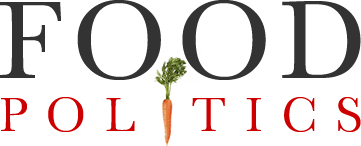 by Marion Nestle
Can KFC help prevent breast cancer?
Really, you can't make this stuff up.  KFC has a new promotion with Susan G. Komen for the Cure, the group that raises funds to fight breast cancer.  The campaign is called "Buckets for the Cure."
Participating KFC franchise locations will be selling specially designed pink buckets of grilled and Original Recipe chicken. KFC has pledged 50 cents to Komen for every pink bucket ordered by its restaurant operators during the promotion period, with a minimum donation of $1 million and a goal to raise more than $8 million. Twenty-five percent of the funds raised will be earmarked to Komen's 120-plus domestic Affiliates for breast cancer programs in their communities. The remainder of the funds will support Komen's national research and community programs.
OK, scientists are still arguing about the dietary determinants of breast cancer and aren't too worried about fat, but they do worry about body weight.  Maintaining a healthy body weight is still the first recommendation of the American Cancer Society, for example.  Isn't this campaign an incentive to buy as many buckets of KFC as you can?
On the topic of KFC's pink buckets: the Dogwood Alliance is collecting signatures on a petition to stop KFC from destroying forests to make them in any color.
KFC buys from International Paper, a company notorious for "business as usual" destructive forest management practices like large-scale clearcutting, conversion of natural forests to plantations and reliance on toxic chemicals in forest management.
Dogwood wants KFC to use more environmentally friendly packaging for its buckets.  It has collected more than 9,000 signatures so far.  Here's where you can add yours.
Addition, May 1: Thanks to Michelle Simon for forwarding this clip from Colbert.  A must-see.  It starts after the worm story at 1:15.