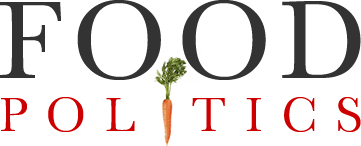 by Marion Nestle
Food politics: our government at work (and play)
I've been collecting items sent to me this week about government actions at the local, state, and national level.  Here's the weekend round up.
Santa Clara County, California, Board of Supervisors bans toys in kids meals: On April 27, the San Jose Mercury News announced that this county, clearly at the vanguard of actions to help prevent childhood obesity, passed a groundbreaking law banning toys in kids' meals that do not meet minimal nutrition standards (the very ones I talked about in a previous post).  Companies can still give out toys in meals, as long as the meals meet those standards.  What an excellent idea.  Let's hope this idea catches on in other communities.
Here's the press release, a a fact sheet on childhood obesity, and remarks by the president of the board of supervisors, along with recommendations from the local public health agency.  Thanks to Michele Simon for the documents.
Connecticut state legislature plays computer games: This photo, attributed to the Associated Press, arrived from Michelle Futrell.  I worried that it might be Photoshopped.  Whether it is or not, it is flying around the Internet, in versions that clearly identify each of hard-at-play legislators.
The Federal Trade Commission (FTC) teaches kids about marketing: The FTC regulates advertising, including food advertising, and it must be getting increasingly concerned about the effects of marketing on kids.  To counter some of these effects, it has created a website, Admongo.gov, an interactive site to teach kids about advertising.  After playing these games, the FTC wants kids to be able to answer these questions:
Who is responsible for the ad?
What is the ad actually saying?
What does the ad want me to do?
The New York Times concludes: "Perhaps the effort comes not a moment too soon. Adweek devotes this week's issue to "Kids" and "How the industry is striving to conquer this coveted market." Thanks to Lisa Young for sending the links.
The FDA asks for comments on front-of-package (FOP) labeling: Patricia Kuntze, a consumer affairs advisor at the FDA sends the April 28 press release and the April 29 Federal Register notice announcing the FDA's call for public comment on this topic.  The agency particularly wants data on:
The extent to which consumers notice, use, and understand FOP nutrition symbols or shelf tags
Results of research examining the effectiveness of various FOP approaches
Graphic design, marketing, and advertising that will help consumers understand nutrition information
The extent to which FOP labeling influences food manufacturers' decisions about the contents of their products
The goal, says the FDA, is to make "calorie and nutrition information available to consumers in ways that will help them choose foods for more healthful diets – an effort that has taken on special importance, given the prevalence of obesity and diet-related diseases in the U.S. and of increasingly busy lifestyles that demand quick, nutritious food."
Here is a speech on the topic by FDA Commissioner Margaret A. Hamburg, M.D.  For information about how to submit comments, click here. To submit comments, refer to docket FDA-2010-N-0210 and click here. You have until July 28 to do it.
Public comment, of course, includes the food industry and a FoodNavigator call for industry comment cites my recent commentary in JAMA with David Ludwig.  I'm glad food industry people are reading it and I hope the FDA does too.
The White House equivocates on organics: What's going on with the White House garden?  Is it organic or not?   Michael Pollan forwards this item from the Associated Press:
Assistant White House Chef Sam Kass, an old friend of President Barack Obama's who oversees the garden, says labeling the crops "organic" isn't the point, even though the White House only uses natural, not synthetic, fertilizers and pesticides.

"To come out and say (organic) is the one and only way, which is how this would be interpreted, doesn't make any sense," Kass said Monday as he walked among the garden's newly planted broccoli, rhubarb, carrots and spinach. "This is not about getting into all that. This is about kids."

Uh oh.  Has "Organic" become the new O-word?  Surely, the White House is not secretly pouring herbicides and pesticides over its garden vegetables.  If not, are we hearing a small indication of big agribusiness pushback?