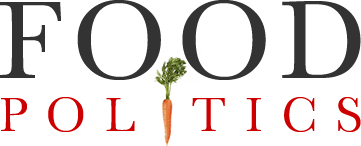 by Marion Nestle
Standards for marketing foods to kids: tentative, proposed, weak
I could not go to the Federal Trade Commission's December 15 forum on food marketing to children (see previous post), but from all reports I missed quite a show.
Officials of four federal agencies involved in food and food regulation – FTC, FDA, USDA, and CDC – released the results of their collaborative efforts to set standards for marketing foods to kids through an Interagency Working Group on Food Marketed to Children.  Congress established this group through the 2009 Omnibus Appropriations Act.  It specified that the group was to set up standards for identifying foods that should not be marketed to children and to publish them by July 15, 2010.
And what standards did the four agencies come up with?  Here are the working group's recommendations:
Take a look at these "Tentative Proposed Standards for Marketing Food to Children 2-17" and decide for yourself whether they are even remotely meaningful.
The Standards are divided into three categories: Standard 1 is real (largely unprocessed) foods with no added sweeteners or functional ingredients.  These could be marketed to children with no further scrutiny.
Foods that do not meet Standard 1 would be required to meet both Standards 2 and 3 in order to be marketed to children.
Standard 2 applies to foods that "must provide a meaningful contribution to a healthful diet" in one of two ways: containing 50% by weight of real foods (Option A), or by containing defined amounts of some useful nutrients per RACC (Option B).  RACC is a new term to me.  Apparently, it means "reference amount customarily consumed."   I have no idea what these are but let's call them serving size.
And what about the cut points?  No foods marketed to children can exceed Standard 3 ("nutrients to limit"):
Saturated fat: 1 gram or less per serving and not more than 15% of calories
Trans fat: less than half a gram per serving
Sugar: no more than 13 grams per serving
Sodium: no more than 200 mg per serving (equivalent to half a gram of salt)
Got that?  It's enough to make me weep.
Apparently, the agencies did not give examples of products that might qualify or not, so you have to do your own work on this.  So that leaves me with some questions about the tentative proposed standards:
Which products qualify and which do not?  It looks to me like the criteria will continue to permit the marketing of questionably nutritious products to kids.  Sugary kids' breakfast cereals should easily qualify; most do not contain more than 13 grams of sugars per serving or more than 200 mg sodium.
What is the definition of RACC?  I don't see a definition in the document.  Without a definition, are companies permitted to define serving sizes for themselves and, maybe, reduce the stated serving size to meet the standards?
Is there any accountability for meeting the standards?  The entire program is voluntary. Alas, we have already had years of experience with industry "self-regulation" and know that it does not work.
This is the best government agencies could come up with?  I see this as further evidence for the need to stop companies from marketing foods to kids.  Period.
Or am I missing something?