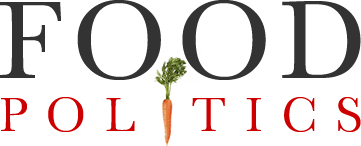 by Marion Nestle
FTC Hearing on Kids' marketing: a preview
The FTC forum on food marketing to kids takes place tomorrow, December 15.  Recall that the industry-sponsored Children's Food and Beverage Initiative says the industry doesn't need regulation, as its self-regulation policies are working just fine.
The research, alas, says otherwise.  According to a report released today, self-regulation is a joke.  An independent investigation of industry marketing-to-kids practices, by Dale Kunkel and his colleagues from the University of Arizona, concludes:
Most ads for foods produced by self-regulating companies are for junk foods
Ads for healthy foods are virtually non-existent
Licensed cartoon characters are increasingly used to market junk foods to kids
At least a quarter of junk food ads come from companies that do not self-regulate
Improvements are negligible
Senator Tom Harkin, who has been introducing legislation to restrict children's food advertising, says he's disappointed:
The food industry vowed to limit the amount of advertising dollars spent to promote unhealthy foods to children, and focus more on nutritious items.  That's why I am so discouraged by this report out today.  When private interests work against the public good, government is obliged to act. We need to examine this issue more closely and figure what needs to be done to achieve balance on the airwaves so that we can improve the health and wellness of our children.
Jeffrey Chester, of the Center for Digital Democracy, points out that he, Kathryn Montgomery of the Center for Communications at American University, and Lori Dorfman of the Berkeley Media Studies Group, have been studying the way food companies advertise on the Internet.  Kathryn Montgomery will be presenting their conclusions from a series of papers examining digital advertising, along with some more recent examples of food marketing to kids in action.
The food industry's job is to sell more food, not less.  Because restrictions on advertising are not in industry's best interest, it is unreasonable to expect self-regulation to work.  That is why we need government to get in there and establish some checks and balances.  The forum should be interesting.  I'm hoping it will lead to FTC action.  Maybe it will even get some of Harkin's colleagues to do some real work on this issue.  Fingers crossed!
Update, December 15: Here's what The FTC released at the forum – standards for the kinds of products that food companies can market to children.  These look good but are voluntary. Good enough? I don't think so.  And here's a report on what happened.